Satisfy your sweet tooth without blowing your diet.
When it comes to food, we all have cravings, temptations, and moments of weaknesses.  Whether it's the need for salty, crunchy, or sweet snacks, these cravings can be a challenge while trying to eat healthy.   Some people find that their sugar cravings are more severe while dieting.  This may be the result of a low-carb, low-fat diet, which can cause your body to become insulin resistant.  In this case, your brain tells your body to consume sugar, even when it's not needed.  Others tend to crave sweets while dieting because they feel deprived from the limited food choices.  Some people have a "sweet tooth" and constantly crave sugar, regardless of their diet.
Whatever the reason for craving sweets, luckily you don't have to blow your diet or cancel out that time you spent at the gym to enjoy something sweet.  Instead of indulging in a high-sugar or high-fat dessert that will leave you feeling guilty, try a fruit snack.  Fruit is nature's perfectly sweet and healthy snack; packed full of flavor and nutrients.  Another benefit of fruit is its versatility; it is available in many flavors, forms, and textures (fresh, freeze-dried, frozen, etc.).
Brothers-All-Natural Fruit Crisps will not only satisfy your cravings for something sweet, but also the need for crunch.  The best part is they do not contain ANY additives or preservatives.   Fruit Crisps are 100% freeze-dried fruit, nothing else is added, and they are available in eleven delicious flavors.
Still not sweet enough?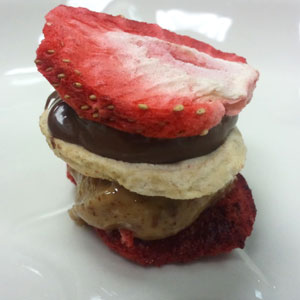 Fruit Crisps don't have to be eaten alone; they are very versatile!  They can be dipped in yogurt, apple sauce, or sprinkled on cereals, and even added to your favorite recipes for added sweetness.  For a quick, tasty treat, try these chocolate hazelnut and almond butter bites, made with Strawberry-Banana Fruit Crisps.