You'll love this energy boosting freeze dried trail mix with peach and strawberry fruit crisps. The flavor combo of the freeze dried peaches and strawberries replace the typical raisins or dried cherries often found in trail mix and adds more crunch. Feel free to choose from a variety of freeze dried fruits to change ingredients accordingly to personal taste and preference. #trailmixday
DIY Freeze Dried Trail Mix Peach & Strawberry

Print recipe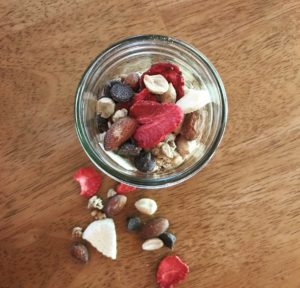 | | |
| --- | --- |
| Serves | 2 |
| Prep time | 10 minutes |
| Meal type | Snack |
| Misc | Child Friendly |
Ingredients
1 bag Freeze Dried Peaches (1/2 cup size)
1 bag Freeze Dried Strawberries (1/2 cup size)
1/4 cup Dark Chocolate Chips
1/2 cup Granola
1/4 cup Almonds (Use crackers, pretzels, cereal, or seeds for an allergy friendly version)
1/4 cup Peanuts (If allergic, use above substitutes)
Directions
Step 1
If desired, break up the freeze dried strawberries and peaches into bite sized pieces.
Step 2
Measure out the rest of your ingredients, put them all in a medium bowl and mix. Enjoy immediately!
Check out our other recipes featuring freeze dried fruit crisps HERE
Show this post some love!