Freeze-Dried Fruit and Vegetables for Food Supply Storage, Convenience, and Nutrition
You spoke, we listened! Over the years we have been asked for bigger packages of Fruit Crisps and when we would have freeze-dried veggies available.  We like to keep our customers happy, so it has been a busy year for us here at B-A-N.  First, we introduced the bigger, 1 oz. resealable bags of Mixed Fruit Crisps and Apple-Cinnamon Fruit Crisps; and now, we are happy to introduce some BIG containers of vegetables and fruit into the product mix!
Meet Harvester Farms; our new line of freeze-dried fruits and vegetables available in 8 Varieties; 4 Fruit and 4 Vegetable:  Diced Potato, Green Pea, Sweet Corn, Broccoli, Strawberry, Banana, Asian Pear, and Fuji Apple.  All Harvester Farms freeze-dried fruits and vegetables are 100% natural with absolutely no additives or preservatives, and contain the same nutritional value as their fresh counterparts.
Packaged in large, #10 size cans for easy storage and having a shelf-life of 25 years, Harvester Farms freeze-dried food is a must-have food staple for emergency preparedness or long term food storage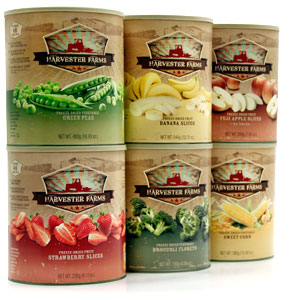 supply.  Even an opened can of Harverster Farms will last up to 18 months, making this a great product to have on hand for convenience.
Easily prepare a healthy meal in minutes without having to wash, slice, or dice the fruits and veggies.  Use the vegetables in your favorite soups, stews, or casseroles; and the fruits for cereals, pies, jams, or baked goods.  Simply rehydrate and use them in any recipe that calls for fruits or veggies.
Because of their nutritional value, crispy texture, and flavor, Harvester Farms fruit and vegetables also make excellent snack food.  They have the satisfying crunch and sustenance to hold off hunger between meals.  Kids will even snack on them, as they find the texture more pleasing than fresh vegetables.  So if you have a child that does not like veggies, could be a simple solution.
Harvester Farms freeze-dried food is lightweight, nutritional, and convenient – perfect food for camping, backpacking, or cooking in the woods…or wherever the trails take you!
 All Brothers-All-Natural Products are:  Peanut/Tree nut free, Gluten free, Soy free, Dairy free, Non GMO, Vegan, Kosher