The Ice Cream American Dream
Ice cream can be a lucrative business, if you do it right. To continue our celebration of National Ice Cream Month, we decided to take a look at Ice Cream Entrepreneurs. Below are seven stories of the American Dream resulting from the American snack of ice cream.
Breyers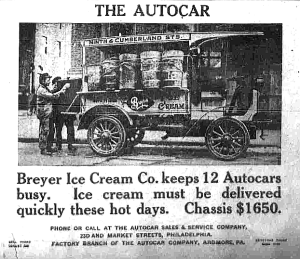 Way back in 1866, America was still recovering from the Civil War. That same year, William A. Breyer hand-cranked his first gallon of ice cream.
This wasn't just any ice cream. This was a special ice cream. It included plenty of rich cream, 100% pure cane sugar, fruits as fresh as he could get, nuts, and other flavors.
Breyer sold this ice cream to his neighbors with the promise that his ice cream included only the finest ingredients. Breyer transported his delicious frozen treat on the very first ice cream truck – a wagon equipped with a dinner bell. Word of mouth (no pun intended) started and Breyers Ice Cream was soon declared Philadelphia's best ice cream.
Just 16 years later, Breyer opened his first retail ice cream shop in 1882. A short while later, he and his family opened four more shops. The shops operated with Breyer continuing to hand crank ice cream from the back of one of the shops.
By 1918, Breyers was producing more than one million gallons of ice cream every year. Their distribution initially shipped to New York City and Staten Island. Soon, it included Newark, New Jersey, and Washington, D.C.
Häagen-Dazs
A entrepreneur with a passion for quality and a vision for creating the finest ice cream, Reuben Mattus started young. He started by working in his mother's ice cream business. His duties here included selling fruit ice and ice cream pops from a horse-drawn wagon on the streets of the Bronx.
By 1960, Mattus had formed his new company, which he called Häagen-Dazs. Häagen-Dazs is an entirely made up, Danish-sounding name with no special meaning. Mattus wanted to convey an aura of the old-world traditions and craftsmanship that he remained so dedicated to.
Häagen-Dazs started with only three flavors: vanilla, chocolate, and coffee. From these simple flavors, Reuben's passions soon took him around the globe. Recipes that include exotic flavors mark the Häagen-Dazs brand. Some include dark chocolate from Belgium and even hand-picked vanilla beans from Madagascar .
These unique taste experiences quickly developed a loyal following. The early success of the company was created by word of mouth and praise. The company spent no money on advertising, but the story of an incredibly rich and creamy treat spread rapidly. Starting in New York City, distribution expanded throughout the East Coast. Eventually, distribution included all of United States.
Edy's
The founding fathers of Rocky Road had a rough go of it. Dreyer, an ice cream maker, and Edy, a candy maker, joined forces in 1928. Their vision was to create the most loved and best-selling premium ice cream in the Western United States.
In 1929, the founders invented a new flavor, called "Rocky Road." The founders wanted to celebrate of the power of ice cream to put smiles on faces, even in hard time. Unfortunately, just 11 years later, Edy was out and Dreyer renamed the company.
In 1953, William Dreyer retired, but he kept the company in the family by passing it on to his son, Junior. In 1977 the company was ready for growth beyond the Western U.S. market. T. Gary Rogers and William F. Cronk purchased Dreyer's Ice Cream and guide it through three decades of growth. Under their strategic direction, the Edy's name was brought back.
Turkey Hill
During the Great Depression, Armor Frey took the extra milk that his dairy generated and carted it around in the back of his touring sedan. He drove around Lancaster County, Pennsylvania, and sold this "extra" milk to his neighbors. Armor continued this until his route grew so large that his "extra milk" business became his only business.
In 1947, Glenn, Emerson, and Charles Frey (the Frey Brothers) bought their father's business. All of the dairy's customers still lived within several miles of the dairy. The brothers continued the hard work of running a profitable dairy until 1980, when they took the biggest step in the life of the dairy. They decided to expand the ice cream production of the dairy, and so, Turkey Hill ice cream was put on the map.
The ice cream became a favorite in local Lancaster County stores. The brothers soon convinced a few independent stores in Philadelphia to give the product a try. Philadelphians enjoyed the quality ice cream with an affordable price. Soon, the dairy was producing light ice cream and frozen yogurt in addition to their traditional ice cream.
Ben & Jerry's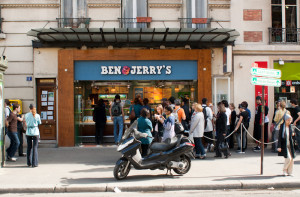 In 1978, Ben & Jerry invested $5 in a correspondence course from Penn State. The duo then invested $12,000 in a renovated gas station in Burlington, Vermont.
As the team was celebrating their 1 year anniversary, a new tradition was born. Ben & Jerry's gave away free scoops all day long for all the customers that had made their success possible.
In 1980, Ben is servicing grocery and Mom & Pop stores out of the back of his old VW Squareback wagon. The duo rents space in an old spool and bobbin mill on South Champlain Street in Burlington and begin packing their ice cream in pints.
In 1987, the duo make history by releasing Cherry Garcia ice cream, so named for Greatful Dead guitarist Jerry Garcia. This is the very first ice cream named for a rock and roll legend. In 1988, the pair were named "U.S. Small Business Persons of the Year" by President Ronald Reagan.
The pair's legacy continue to innovate, now as a subsidiary of Unilever, but the company continues to operate freely. An independent Board of Directors was created to provide leadership. At the same time, the Board focuses on preserving and expanding the original Ben & Jerry's social mission, brand integrity, and product quality.
Van Leeuwen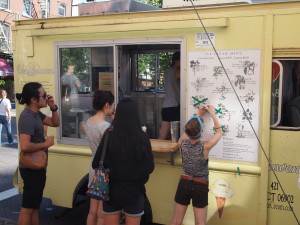 After a summer job driving an ice cream truck, Ben and Pete Van Leeuwen knew they could do it better. They were also convinced that they could do it without all the additives and artificial flavors. With co-founder Laura O'Neill, the brand's goal is clear. They make simple products that celebrate ingredients perfected by nature, not science. They're dedicated to not reinventing the wheel, just perfecting the classics.
The team now has an ice cream kitchen in Brooklyn that makes 100% of their ice cream. The packaged pints the trio sells to Whole Foods and a bunch of other stores in the New York Metro area are also made there.
This socially-conscious trio has expanded to include coffee and pastries on their trucks. They now have an Indonesian-themed sit-down restaurant called Selamat Pagi (meaning good morning).
Ample Hills Creamery
Just four days after opening their first store in Brooklyn, co-founders Brian Smith and Jackie Cuscuna had more customers than ice cream. The team had to close for more than a week to restock. They report that it was "insane, humiliating, exciting, humbling, and wonderful, all at once."
The company continues to expand. They now have another store in the Gowanus section of Brooklyn that includes an outdoor roof deck and party space. During the warm summer months, you can also check out their kiosk location at Pier 5 in Brooklyn Bridge Park, or find their ice cream carts: one on Pier 1 and another near Jane's Carousel.
Toppings & Add-Ins
Want to be America's next ice cream mogul? Get started by checking out our homemade and allergy-free recipes on our blog. Just looking to enjoy some new tastes with your ice cream? We think freeze dried fruit snacks make an excellent and tasty addition.