Dig in to these Peach Snicker Doodle Cookie Dough Balls
Even people who aren't a fan of peach will love these peach snicker doodle cookie balls. The hint of peach combined with the cinnamon flavors from the soft, edible dough is delicious! Treat yourself with this easy recipe that requires no cooking.
Peach Snicker Doodle Cookie Dough Balls

Print recipe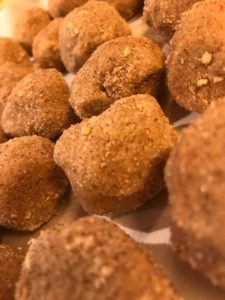 | | |
| --- | --- |
| Serves | 25 |
| Meal type | Dessert, Snack |
Ingredients
1 cup butter
3/4 cups sugar (1/4 cup for topping, 1/2 cup for dough)
3/4 cups brown sugar
2 teaspoons vanilla
2 cups flour
1/2 teaspoon salt
2 teaspoons cinnamon (1 teaspoon for the dough, 1 teaspoon for the coating)
1 teaspoon cream of tartar
2 Bags freeze dried peach (1/2 cup bags)
Directions
Cinnamon Sugar Peach Topping
Step 1
Crush one bag of freeze dried peach into powder by pressing down on the sealed bag with a glass. Take the second bag of peach and crush into small pieces similar in size to chocolate chips.
Dough
Step 2

Take the powered bag of freeze dried peach, 1/4 cup of sugar, and 1 teaspoon of cinnamon and mix well. Set aside.

Step 3
In another bowl, cream together the butter, rest of the sugar (1/2 cup), brown sugar, and vanilla. Then, mix in the flour, salt, rest of the cinnamon (1 teaspoon), cream of tartar and the other bag of freeze dried peach until combined.
Step 4

Roll the dough into balls and then roll in the cinnamon sugar peach mixture. Place on a plate and keep in the fridge until ready to serve.
Check out our Peach Freeze Dried Fruit selection: https://www.brothersallnatural.com/peach-freeze-dried-fruit-crisps/
Recipe inspired by http://www.centercutcook.com/snickerdoodle-cookie-dough-bites/
Show this post some love!