Coffee Cake With Fruit

Print recipe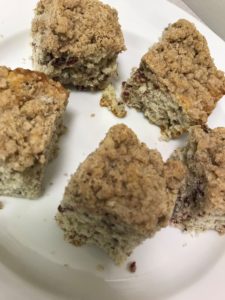 Ingredients
Batter
2 cups flour
2 teaspoons baking powder
3/4 cups sugar
1/4 cup butter
1 egg
1 teaspoon vanilla extract
1/2 cup milk
3 (1/2 cup size bags) Brothers All Natural Freeze Dried Fruit (taste great with strawberry banana, strawberries, banana, apple, apple cinnamon, peach)
Topping
1/3 cup sugar
1/2 cup flour
1 teaspoon ground cinnamon
1/4 tablespoon butter
Directions
Step 1
Preheat oven to 375 F and grease a 9 x 9 square pan or cake pan.
Step 2
Mix the dry ingredients for the batter (flour, baking powder, salt.) In another bowl, mix the sugar, butter, & vanilla extract.
Step 3
Add the flour mixture to the wet (sugar/butter) mixture while alternating with the milk. Do this until the flour mixture, wet mixture and milk are combined.
Step 4
Dump the 3 bags of fruit crisps into the batter (break them up into smaller pieces, if desired). Fold into the batter and then allow to sit for 10 minutes.
Step 5
While the batter sits, mix the sugar, flour & cinnamon and then cut the butter in. Do this until it becomes a crumbly mixture.
Step 6
Take the batter and spread into prepare baking pan. Sprinkle the topping mixture on top and bake for 30-35 minutes or until a tooth pick comes out clean.