Harvester Farms Split Pea Soup

Print recipe
| | |
| --- | --- |
| Serves | 24 |
| Prep time | 20 minutes |
| Cook time | 25 minutes |
| Total time | 45 minutes |
| Dietary | Gluten Free |
| Meal type | Main Dish, Soup |
| Misc | Pre-preparable, Serve Hot |
| Website | Brothers-All-Natural Blog |
Homemade smoky and creamy split pea soup served with freshly toasted baguette bread for dipping
Ingredients
1 1/2lb Ham with Bone (diced)
1 tablespoon Oil (or as needed)
1 Onion (diced)
4 Carrots (diced)
6 stalks Celery (diced)
6 cloves Garlic (finely chopped)
3 sprigs Thyme (finely chopped)
2 Bay Leaves
1 can Harvester Farms Peas
2 49 1/2 oz cans Chicken Stock
1/2 quart MIlk
3/4 quarts Heavy Cream
1 teaspoon Black Pepper
1 tablespoon Apple Cider Vinegar
1 teaspoon Hot Sauce
Garnish
Smoked Paprika (as needed)
Parmesan Cheese (as needed)
Toasted Baguette Bread
1 Loaf French Bread (diagonally sliced)
Extra Virgin Olive Oil (as needed)
1 teaspoon Salt
1/8 teaspoon Black Pepper
Directions
soup
Step 1
Heat a very large pot over high heat until hot. Add enough oil to lightly coat the bottom of the pan. Add the diced ham and sear until golden, about 5 minutes. Flip and sear for another 3 minutes or so. Remove ham from pot and set aside (discard bone).
Step 2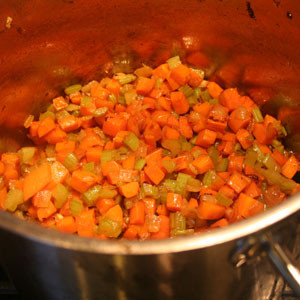 In the same pot the ham was cooked in, saute the onion, carrots and celery about 15 minutes or until onions start to turn golden. Add more oil if necessary. Add the garlic,thyme, bay leaves. Saute 1 minute longer.
Step 3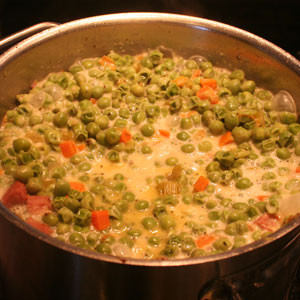 Add the Harvester Farms Peas(remove the two oxygen absorbers), chicken stock, milk, cream, salt, pepper and reserved ham. Bring to a simmer over medium heat. Stir occasionally. Let simmer for about 10 minutes, or until peas are tender. Remove bay leaves.
Step 4
Using an immersion (stick) blender, carefully blend the soup until completely smooth. Add the vinegar and hot sauce (for flavor enhancement). Re-season with salt and pepper if necessary.
Step 5
Ladle soup into bowls and garnish with a sprinkle of smoked paprika and Parmesan cheese.
Toasted Baguette Bread
Step 6
Place sliced bread in one flat layer onto a foil lined sheet tray. Drizzle each piece of bread with extra virgin olive oil and sprinkle lightly with salt and pepper.
Step 7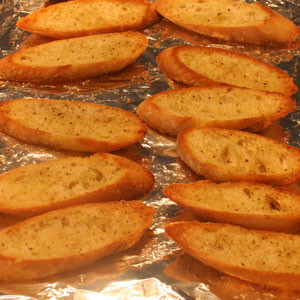 Bake in a 350 degrees F oven for about 20-25 minutes, flipping half way through the baking process. Remove from oven and serve with soup