Pan-Seared Wild Alaskan Salmon with Pineapple-Mango Chutney

Print recipe
| | |
| --- | --- |
| Serves | 4 |
| Prep time | 20 minutes |
| Cook time | 15 minutes |
| Total time | 35 minutes |
| Dietary | Gluten Free |
| Meal type | Main Dish |
| Misc | Serve Hot |
| Website | Brothers-All-Natural Blog |
Pan-seared Wild Alaskan Salmon topped with a sweet and tangy pineapple-mango chutney with cilantro and bell peppers.
Ingredients
Pineapple-Mango Chutney
4 bags Brothers-All-Natural Pineapple Fruit Crisps
2 Fresh Mangos (Peeled and diced)
1/2 cup Sweet Peppers (Diced)
1/2 Lime (Juiced and zested)
1 tablespoon Fresh Cilantro (Finely chopped)
1 tablespoon Honey (Or to taste)
1/8 teaspoon Cayenne Pepper
1 teaspoon Cider Vinegar
1 tablespoon Water
Pan-Seared Wild Alaskan Salmon
4 (6 oz) Wild Alaskan Salmon Filets (Cleaned)
1/2 teaspoon Salt (Or as needed)
1/4 teaspoon Black Pepper (Or as needed)
1 tablespoon Oil (Or as needed)
Directions
Pineapple-Mango Chutney
Step 1
To make the chutney, mix all ingredients in a medium bowl. Let it marinate for at least 1 hour or overnight.
Pan-Seared Wild Alaskan Salmon
Step 2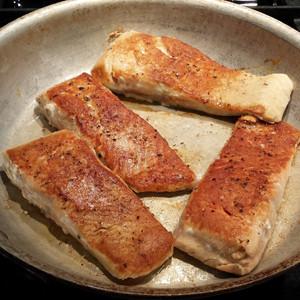 Heat a large saute pan over high heat until hot. Add the oil to coat the bottom of the pan. Pat the salmon dry with paper towels and season both sides with salt and pepper.
Step 3
Place the salmon flesh side down into the hot pan. Let the salmon sear on the first side for about 7-10 minutes or until a golden crust appears.
Step 4
Tilt the pan periodically to ensure even oil distribution in the pan
Step 5
The salmon will release from the pan once it is seared properly. Flip each filet and sear another 2-3 minutes, or until the fish is fully cooked and is firm to the touch.
Step 6
Remove the pan from the heat and let the salmon rest for least 5 minutes.
Step 7
Serve each filet with 1/4 of the prepared chutney