Pear Galette

Print recipe
| | |
| --- | --- |
| Serves | 8 |
| Prep time | 20 minutes |
| Cook time | 1 hour |
| Total time | 1 hours, 20 minutes |
| Meal type | Dessert |
| Misc | Gourmet |
Sweet and thin tart made with Brothers-All-Natural Asian Pear Fruit Crisps and a hint of cinnamon and almond. A great treat for Thanksgiving.
Ingredients
Dough
1 1/4 cup Flour
1/2 teaspoon Salt
1/4 cup Shortening
1 teaspoon Shortening
3/4 sticks Butter (Chilled and sliced into pats)
1/4 cup Ice Water
Filling
1 cup Water
1 cup Sugar
1/8 teaspoon Almond Extract
1 teaspoon Vanilla
1/4 teaspoon Salt
1/2 teaspoon Cinnamon
16 bags Brothers All Natural Asian Pear Fruit Crisps
Note
Directions
Dough
Step 1
Mix together the flour and salt in a medium bowl. Work in the shortening by hand until full incorporated. Add half of the sliced butter pats and work in by hand. Add the remaining butter pats and toss gently to coat(do not work in those pieces). Add the water and form into a ball. Flatten ball into a patty and square off the edges. Wrap tightly in plastic wrap and let refrigerate at least 1 hour.
Filling
Step 2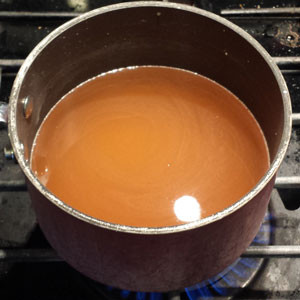 In a small pot combine the water, sugar, almond extract, vanilla, salt and cinnamon. Bring to a simmer over medium heat. stir occasionally. The sugar should be completely dissolved. Place the Brothers All Natural Asian Pear Crisps into a large bowl. Our the simmered mixture over the top of the pears and fold gently to combine. Let the mixture absorb the moisture at least 5 minutes.
Step 3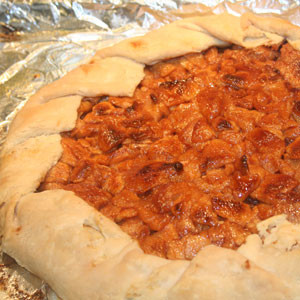 Once chilled roll the dough out onto a floured work surface. Roll to approximately 1/4 inch thick. Place dough onto a foil lined and greased sheet tray. Top the dough with prepared filling. Leaving approximately 2 inches of the sides of the dough uncovered. Fold those 2 inches up and over the filling, leaving the center open. Cover the entire galette loosely with foil or it will burn
Step 4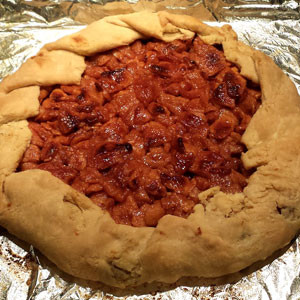 Bake in a 425 degrees F oven for the first 20 minutes. Reduce temperature to 350 degrees F and bake an additional 40 minutes.
Step 5
Let cool slightly, then slice and serve. Optional you can drizzle caramel sauce over each slice for service