Pear & Walnut Stuffing

Print recipe
| | |
| --- | --- |
| Serves | 12 |
| Prep time | 15 minutes |
| Cook time | 1 hour |
| Total time | 1 hour, 15 minutes |
| Meal type | Side Dish |
| Misc | Serve Hot |
| Occasion | Thanksgiving |
Homemade savory and sweet stuffing packed with toasted walnuts and Asian Pears. Perfect for Thanksgiving.
Ingredients
2 Loaves Stale Italian bread (Cubed)
1 stick Butter (Divided)
6 stalks Celery (Sliced)
1 Onion (diced)
6 Small Cloves Garlic (Finely chopped)
1 1/2 cup Walnuts (Chopped)
1 1/2 tablespoon Ground Sage
1 1/2 tablespoon Crushed Rosemary
1 teaspoon Ground Thyme
2 teaspoons Salt
1/2 teaspoon Black Pepper
6 cups Chicken Stock
12 bags Brothers-All-Natural Asian Pear Crisps (Slightly crushed)
Directions
Step 1
Preheat oven to 350 degrees F
Step 2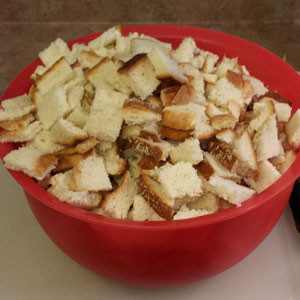 Place cubed bread into a large bowl. Set aside
Step 3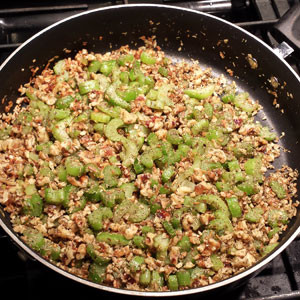 Heat a large saute pan over medium high heat. Add 1/2 stick of butter and melt. Add the onion and celery and saute about 5 minutes, or until the onions are translucent. Add garlic and saute 1 minute longer. Add the chopped walnuts, dried herbs, salt,pepper and chicken stock. Bring to a simmer
Step 4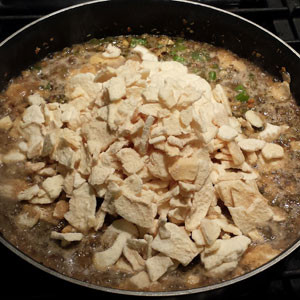 Add Brothers-All-Natural Asian Pear Crisps to the saute pan and stir to combine. Remove from heat.
Step 5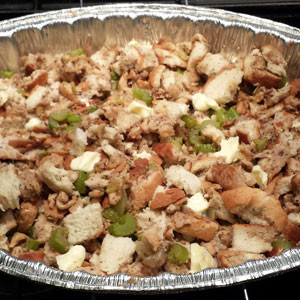 Pour stock mixture over the bread cubes and lightly toss to combine. Pour into a large greased baking pan or dish. Dot stuffing with the remaining 1/2 stick of butter. Immediately cover with foil and let steam about 5-10 minutes
Step 6
Remove foil and bake stuffing for about 1 hour, or until the top is golden and crispy and the center is no longer soggy. Serve