Fruit and herb Flavored ice cubes are a fun and easy way to add taste and variety to any drink!
Nothing is more refreshing than an ice cold drink in the summer.  Instead of using just plain ice, mix it up and have some fun with frozen fruit and herb cubes!  The possibilities and variety of drink combinations are endless; simply mix and match your favorite fruits and herbs.
Cool down this summer with some Fruit and herb flavored iced teas
Add some fruity fun to your iced tea by mixing your favorite freeze-dried Fruit Crisps with lemon, lime and various fresh herbs to create a variety of flavors, colors, and textures.  Use the ice with your favorite iced tea, lemonade, or water.  These ice cubes are fun and perfect for entertaining; freeze them in a large container to showcase in your punch bowl or pitcher.
Mixed Berry and Lemon Flavored Ice Cubes: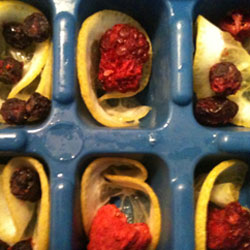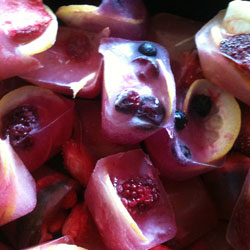 These ice cubes were made from Brothers-All-Natural freeze-dried Mixed Berry Fruit Crisps and fresh lemons.  Freeze-dried berries are perfect to use because they will absorb the water and actually "plump up" in the cubes.  Once the ice melts in the drink, delicious berries are left at the bottom of the glass to enjoy.  Another benefit of using freeze-dried fruit is the beautiful color of the ice.  The raspberries, blueberries, blackberries, and strawberries dye the ice a pinkish color that nicely compliments the colors of the berries and lemon slices.  This fun, festive, and flavorful ice is sure to enhance any drink!
Other fruit and herb combinations to try:
Mandarin Orange and rosemary
Mixed Berry with mint
Strawberry-raspberry with thyme
Strawberry-Orange with mint
Lemon-basil strawberry
Pineapple mint
Mandarin Orange with tarragon
Fruit Crisps to use for the above ice cubes:
Summary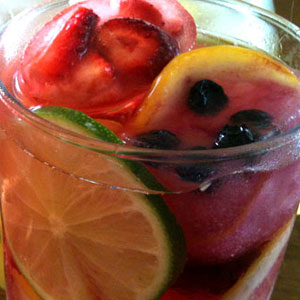 Recipe Name
Fruit and herb Flavored ice cubes
Published On
Preparation Time
Total Time
Average Rating





Based on 2 Review(s)