Skip the donut shop! These donut holes featuring Brothers All Natural Freeze-Dried Fuji Apple Cinnamon Fruit Crisps are easy to make at home in the air fryer. No yeast or rising time required! Perfect for breakfast or a tasty dessert all year round. Give it a try!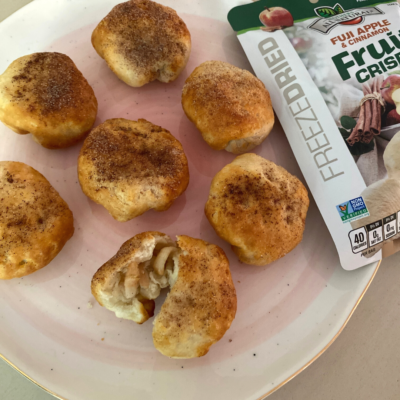 Air Fryer Apple Cinnamon Donuts

Print recipe
Ingredients
1 cup Soft Butter
1 cup Sugar
1 cup Milk
3 cups Flour
4 teaspoons Baking Powder
1/2 teaspoon Salt
1 teaspoon Vanilla
1 bag Brothers All Natural Fuji Apple Cinnamon Fruit Crisps
1/4 cup Melted Butter (For Topping)
1/3 cup Cinnamon (For Topping)
1/3 cup Sugar (For Topping)
Note
These Apple Cinnamon donut holes are made with an easy-to-make homemade dough. If you are short for time, you can substitute the homemade dough with pre-made biscuit dough from a can - and it's just as delicious!
Directions
Donuts
Step 1
Cream butter and sugar together until smooth. Add milk and dry ingredients. Mix in vanilla.
Step 2

Once mixed, take about two tablespoons amount of dough (You can take more or less depending on your size preference). Roll dough out until slightly thin. Sprinkle crushed Fuji Apple Cinnamon Fruit crisps into the middle of each dough piece. Gently fold edges up and pinch to seal. Roll gently for a round donut hole shape.

Step 3

Place dough on parchment paper in the air fryer. Bake for about 5 minutes at 360 degrees.

Topping
Step 4
Melt the butter in a bowl. In another bowl, mix together the cinnamon and sugar.
Topping.
Step 5

Once donuts are cooked, brush the butter over each donut hole. Dip the donuts into the sugar mixture and coat on each side. Serve warm and enjoy!