Allergy Free Coconut Strawberry Sorbet
Looking to take your summer desserts up a notch or two? Look no further than this delicious and allergy friendly coconut strawberry sorbet. You can serve with confidence to all your guests!
Allergy-Free Strawberry Coconut Sorbet

Print recipe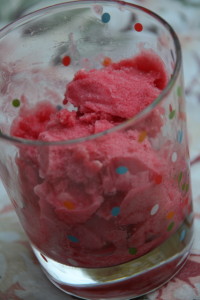 | | |
| --- | --- |
| Dietary | Diabetic, Gluten Free |
| Meal type | Dessert |
| Misc | Child Friendly, Freezable, Gourmet, Serve Cold |
This lemon strawberry sorbet recipe is a delicious, healthy treat! Instead of reaching for conventional ice cream, try this homemade sorbet and skip all the additives, refined sugars and allergens!
Ingredients
1 cup Agave nectar
1 cup HOT water
1 cup coconut milk (full fat, in can)
12oz Freeze Dried Strawberries
Juice from half a lemon
Directions
Step 1
Make a simple syrup by combining the agave nectar with hot water.
Step 2
Stir until the agave completely dissolves.
Step 3
Allow this to cool.
Step 4
Put strawberries, syrup and lemon juice into food processor and blend until smooth.
Step 5
Pour the mixture through a fine mesh sieve or cheesecloth to remove the seeds.
Step 6
Pour the strawberry puree onto a parchment-lined cookie sheet and freeze until set.
Step 7
Break the frozen puree into pieces and blend again in the food processor (you might have to do this in small batches).
Step 8
Pour back onto parchment lined cookie sheet and freeze again.
Step 9
Blend a final time.
Step 10
Serve immediately - garnish with fresh mint leaves, if you wish.
Products used is this recipe:
Strawberry Fruit Crisps
Pin this recipe so you don't lose it!