Apple Cookies
We love peanut butter, chocolate chips and apples! You have got to try this quick, easy and delicious apple cookies recipe. No baking required!
No Bake Apple Cookies

Print recipe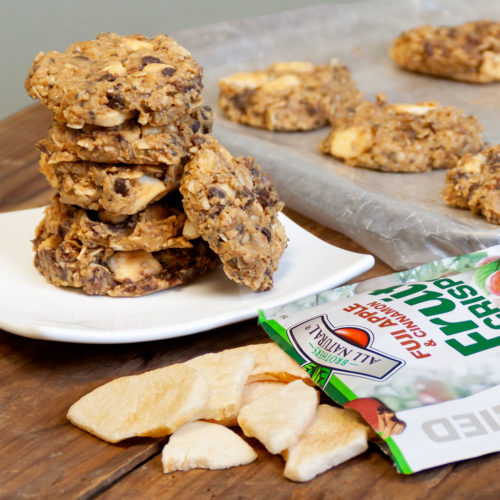 Ingredients
3/4 cups Peanut butter
1 tablespoon Honey, agave or maple syrup
1 teaspoon Vanilla
1-2 tablespoon Chia Seeds
3/4 cups Rolled Old Fashioned Oats
1/4 cup Mini Chocolate Chips
1/4 cup Brothers All Natural Apple Cinnamon Fruit Crisps (broken into small pieces)
Directions
Step 1
In a microwave safe bowl, melt the peanut butter, honey (or other substitute listed above) and vanilla for about 20-30 seconds. Stir until fully incorporated.
Step 2
Add the rest of the ingredients and mix well.
Step 3
Roll the mixture into balls and place on wax or parchment paper. Flatten into cookies with a glass or your hand. Place in the fridge and chill for at least an hour before enjoying!
Made with Brothers All Natural Apple-Cinnamon Fruit Crisps
Try our other recipes made with our Apple Fruit Crisps