Apple Pie Smoothie
The apple pie smoothie is the shake every apple pie lover could dream of! Quick, easy and  delicious pie flavor in seconds!
Apple Pie Smoothie

Print recipe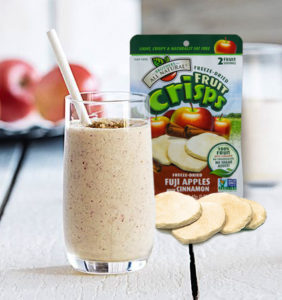 Ingredients
1 bag Apple Cinnamon Fruit Crisps
8oz Unsweetened Vanilla Almond Milk
4 Ice Cubes
1/2 Avocado ((Optional))
Garnish
Fat Free Whipped Cream
2 Fuji Apple Fruit Clusters (Crushed)
Directions
Step 1
Place all ingredients in blender. Blend until smooth. Pour into a glass and garnish with whipped cream. Serve immediately.
Products used: