Apple pie fans will love this quick and tasty recipe!
Apple Pie Smoothie

Print recipe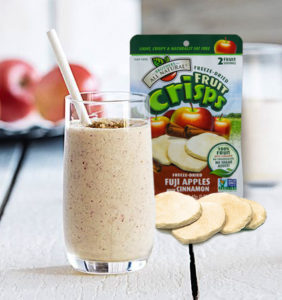 Ingredients
1 bag Apple Cinnamon Fruit Crisps
4 Fuji Apple Cinnamon Fruit Clusters
8oz Unsweetened Vanilla Almond Milk
4 Ice Cubes
1/2 Avocado ((Optional))
Garnish
Fat Free Whipped Cream
2 Fuji Apple Fruit Clusters (Crushed)
Directions
Step 1
Place all ingredients in blender. Blend until smooth. Pour into a glass and garnish with whipped cream and the crushed Fuji Apple Cinnamon Fruit Cluster. Serve immediately.
Products used:
Freeze Dried Fuji Apple Crisps