Fall and Apple season are upon us! Give a traditional Apple Crisp a twist with these easy shortbread bars – no peeling and slicing of apples required! Made with Brothers All Natural freeze-dried apple cinnamon fruit crisps!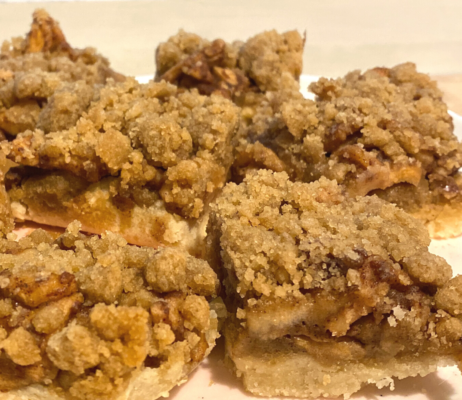 Apple Shortbread Bars

Print recipe
| | |
| --- | --- |
| Serves | 16 |
| Prep time | 1 hour, 15 minutes |
| Cook time | 45 minutes |
| Total time | 2 hours |
| Meal type | Dessert |
Ingredients
Shortbread Base
1/2 cup unsalted butter (softened)
1/4 cup sugar
1 teaspoon vanilla extract
1/4 teaspoon salt
1 cup all-purpose flour
Apple Filling
5 bags Brothers All Natural Apple Cinnamon Fruit Crisps (1/2 cup bags)
2 tablespoons all-purpose flour
2 tablespoons sugar
1 teaspoon ground cinnamon
1/4 tablespoon ground nutmeg
Topping
1/2 cup all-purpose flour
3/4 cups brown sugar
1/4 cup butter (melted)
Directions
Step 1
Preheat your oven to 300°F and line an 8x8 baking pan with parchment paper.
Shortbread Base
Step 2
Place butter into your mixer and turn until butter turns white rather than yellow. Next, mix in the sugar, vanilla, and salt. Once combined, add in the flour and stir well. Press mixture into the parchment lined pan and bake for 15 minutes.
Apple Filling
Step 3
Combine freeze-dried apple slices and 2 cups of water. Let hydrate for a few minutes. Drain any extra water. Once hydrated, add in the flour, sugar, cinnamon, and nutmeg until the apples are well coated.
Topping
Step 4
Mix flour and brown sugar. Cut in the butter and knead together.
Step 5
Remove the crust from the oven and turn up the heat to 350°F. Sprinkle one-half of the topping over the shortbread, then layer the apple mixture on top. Sprinkle the remainder of the topping over the apples and bake for 30 minutes.
Step 6
Let cool fully before setting in the fridge for at least 2 hours to set. Then cut and serve with ice cream - and more fruit crisps!