Arugula Salad With Freeze Dried Pear
Light & refreshing with a simple homemade dressing.
Arugula Pear Salad

Print recipe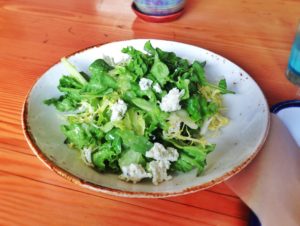 A light and refreshing salad with freeze dried pear and a simple homemade dressing.
Ingredients
3 Tablespoons Olive Oil
2 Tablespoons Red Wine Vinegar
1 teaspoon Dijon Mustard
2 Bunches Arugula (washed and dried)
1/2 cup Freeze Dried Pears
1 tablespoon Walnuts
2 Tablespoons Crumbled Blue Cheese
2 Green Onions (finely chopped)
Directions
Step 1
To create the dressing, whisk together the vinegar, mustard, and olive oil. Add salt and pepper to taste.
Step 2
In a medium bowl place the arugula, chopped onions, freeze dried pear, walnuts, blue cheese, homemade dressing and mix!
Step 3
Enjoy!
Recipe adapted from Melissa d'Arabian, Food network