Make this easy, delicious, baked french toast casserole, made with your favorite freeze dried fruit crisps from Brothers All Natural. Make it for breakfast, dessert or just because!
Baked French Toast with Freeze Dried Fruit

Print recipe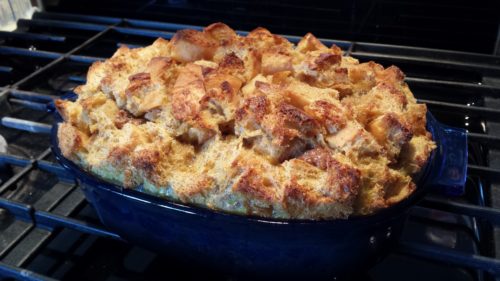 | | |
| --- | --- |
| Serves | 8 |
| Prep time | 15 minutes |
| Cook time | 1 hour, 10 minutes |
| Total time | 1 hour, 25 minutes |
| Meal type | Breakfast, Dessert |
| Misc | Pre-preparable, Serve Hot |
| Website | Brothers-All-Natural Blog |
Baked French toast casserole layered with cinnamon, cream cheese and Brothers-All-Natural Mixed Fruit Crisps.
Ingredients
1 Large loaf Crusty Italian Bread (left out for 1-2 days)
1½ cup Freeze Dried Fruit (Any flavor) (be sure to remove the oxygen absorbers)
8oz Cream Cheese, softened
2 tablespoons Granulated Sugar
1 tablespoon Ground Cinnamon
Egg Batter
15 Medium Eggs
1 ¼ cup Milk
1 tablespoon Vanilla
¼ cup Granulated Sugar
1 teaspoon Salt
Directions
Step 1

Cut bread into approximately 1-inch cubes. Liberally grease a deep casserole dish (at least 4-inches deep). Add one layer of the cubed bread to the dish. Add the Brothers-All-Natural freeze dried fruit (your choice of flavor. Strawberries, apples or peaches would work great!) on top of the bread. Spread evenly.

Step 2

In a small bowl, mix together the cream cheese, 2 Tbsp. sugar and 1 Tbsp. cinnamon. Mix well. Drop cream cheese mixture in small spots on top of the Fruit Crisps, then spread evenly. Top with remaining cubed bread.

Step 3

In a large bowl, mix together the eggs, milk, vanilla, ¼ cup sugar, and salt. Whisk until mixture is thin. Gently and slowly pour egg mixture over casserole, making sure to cover as much surface area as possible. Lightly press down on the bread to absorb the egg mixture.

Step 4
Spray a piece of foil with pan spray and cover dish tightly. Refrigerate overnight.
Step 5

When ready to bake, preheat oven to 350 degrees F. Bake the casserole for 30 minutes covered. Uncover, then bake an additional 35 to 40 minutes or until bread is golden brown and toasted. Serve.