Banana Cream Pie made with Brothers-All-Natural Freeze Dried Banana Fruit Crisps. A perfect dessert for your next get together.
Banana Cream Pie

Print recipe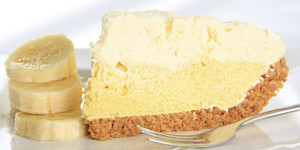 A quick and easy Banana Cream Pie made with Freeze Dried Bananas. The perfect treat on a warm summer day.
Ingredients
2 bags Brothers-All-Natural 1/2c Banana Fruit Crisps
2 Packages Sugar Free Instant Vanilla Pudding
1/3 cup Melted Butter
Pie Crust
Topping
Directions
Step 1
Preheat oven to 375 degrees F. Crush about 30 or so Vanilla Wafers. Mix with melted butter. Press into pie pan. Bake pie crust for about 6-8 minutes.
Step 2
In a large mixing bowl prepare the Sugar Free Vanilla Pudding as directed. Whisk in the Brothers-All-Natural Fruit Crisps.
Step 3
Gently pour the mixture over the Vanilla Wafers. Place pie in the refrigerator let sit for an hour
Step 4
Top pie with Cool Whip. Serve
Products used in this recipe: