This simply delicious, light, flavorful Apple Raisin Bread is perfect for breakfast, dessert or anytime snacking. Our freeze dried Fuji Cinnamon Apples are the perfect addition with the combination of cinnamon, brown sugar and raisins.
Braided Apple Raisin Bread

Print recipe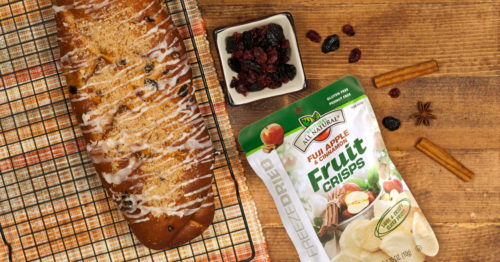 | | |
| --- | --- |
| Serves | 1 loaf |
| Meal type | Bread, Breakfast, Dessert |
Ingredients
Dough
2 cups bread flour
2 teaspoons instant yeast
1/4 cup sugar
1/2 teaspoon salt
3/4 cups whole milk (heated)
3 tablespoons vegetable oil
1 egg
1 Cup raisins
1/3 Cup flour
Filling
2 tablespoons soft butter
1/4 cup brown sugar
1 tablespoon freeze dried apple cinnamon powder (In a blender, pulse 1/2 cup of Brothers All Natural freeze dried cinnamon apples until a fine powder)
Egg wash
1 egg yolk + 1 tsp. water
Icing
1 cup powdered sugar
2 tablespoons milk
Directions
Step 1
In a large mixing bowl or a stand mixer, add the flour, sugar, yeast & salt. Combine well.
Step 2
Add the heated milk (heat about 40-60 seconds in microwave). Then, add the oil and egg. Mix on medium speed for around 2 minutes.
Step 3
Fold in the raisins and flour to form the dough. Prepare a floured surface and knead the dough for 3-4 minutes. Cover in plastic wrap and allow it to sit for 10 minutes.
Step 4
While the dough is resting, start preparing the apple cinnamon sugar by simply mixing the crushed freeze dried fruit with the brown sugar.
Step 5
Roll the dough into a rectangle, about 9 in. by 12 in, and slice into 3 long sections (so each strip is 12 inches long with about a 3 inch width). Spread butter on each strip and sprinkle the sugar filling mix down the center of each strip, staying away from the edge.
Step 6
To shape the bread, fold the 12 inch strips in half to make a 6 inch strip that has a sugar filling. Pinch the sides and ends to seal the sugar in. Use these 3 sections to form a braid and place on a baking sheet with parchment paper.
Step 7
Cover the braid with plastic wrap or a towel, and allow to rise for 1.5 hours. The best place to do this is on top of the preheating oven. Oven should be preheated to 375 degree Fahrenheit.
Step 8
Before baking, brush the egg wash on top (egg yolk mixed with 1 tsp. water). Bake for about 25 minutes.
Step 9
Allow the bread to cool completely before adding the glaze. (Glaze is 1 cup powdered sugar with 2 tablespoons milk). Sprinkle any extra freeze dried apple cinnamon powder on top.
Find more Recipes featuring our freeze dried Fruit Crisps HERE