Cinnamon Apple Granola Bars
These cinnamon apple granola bars are sure to be a big hit. You may not be able to keep up with the demand!
They only require 5 ingredients, and are easy to whip up in no time! Made with all natural fruit crisps, of course…
Cinnamon Apple Granola Bars

Print recipe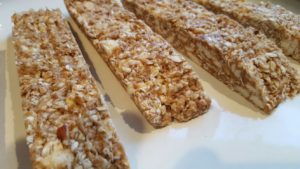 Ingredients
3 Bags (1/2 cup size) Brothers All Natural Apple Cinnamon Fruit Crisps
1 cup rolled oats (use gluten free rolled oats to make recipe gluten free)
1/8 teaspoon salt
1/3 cup almond butter
1/4 cup agave or honey
Directions
Step 1
In a blender or food processor, process the Apple Cinnamon Fruit Crisps until they are broken up into tiny pieces.
Step 2
In a large bowl, mix the fruit with the rolled oats and salt. Stir in the almond butter, and then mix in the agave until a sticky dough forms.
Step 3
Transfer the mixture to your pan, and press it down evenly into the pan using a soft spatula. Freeze the pan for at least 1 hour, and then cut bars using a sharp knife.
Step 4

Store at room temperature or in the refrigerator for up to a week.
Get your favorite Fruit Crisps HERE
Brothers All Natural freeze dried fruit crisps are dried to preserve the flavors and nutrients off fresh fruit. Healthy, delicious fruit snacks with no additives or preservatives, just 100% real, all natural, great tasting fruit.
Try our other Fruit Crisps RECIPES