Homemade Pancakes with Freeze Dried Fruit
Delicious, fluffy, homemade pancakes with freeze dried fruit are sure to please the entire family! Make these any day without the worry of having fresh fruit on hand. Freeze dried fruit typically has a shelf life of 1+ years.
Easy Homemade Pancakes with Fruit

Print recipe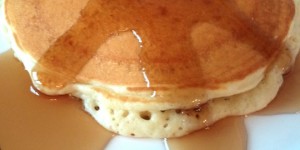 | | |
| --- | --- |
| Serves | 12 |
| Prep time | 10 minutes |
| Cook time | 20 minutes |
| Total time | 30 minutes |
| Allergy | Wheat |
| Meal type | Breakfast |
| Misc | Child Friendly, Serve Hot |
| Website | Brothers-All-Natural |
These fluffy homemade pancakes are easy to make and sure to please the entire family! Use the fruit of your choice to add fun and variety.
Ingredients
3 cups All-Purpose flour
3 tablespoons Sugar
7 teaspoons Baking powder
1 teaspoon Baking soda
1/2 teaspoon Salt
2 3/4 cups Milk
3/4 cups Oil or Melted Butter
3 Eggs
6 bags Brothers-All-Natural Banana Fruit Crisps ((or other flavor of choice))
Note
**Tip: Make sure that the Fruit Crisps are completely covered with batter before flipping them over.  If the Fruit Crisps are exposed directly to the heat of the pan, they may scorch and burn.
Directions
Step 1
Mix flour, sugar, baking powder, baking soda and salt in a bowl. In a separate bowl, whisk together the milk, oil and eggs. Whisk wet ingredients into dry ingredients (don't over-mix). Let batter sit for about 5 minutes.
Step 2

Preheat a non-stick griddle on low to medium-low heat. Spray lightly with pan spray. Scoop batter by portion onto griddle into desired sized pancakes. Place one layer of Banana Crisps onto pancake batter. Portion a little more batter over the top of the Banana Crisps and spread lightly with a spatula.

Step 3
Cook pancakes on first side until lots of bubbles appear on the surface, about 1-2 minutes. Flip and cook another 2-3 minutes or until pancakes spring back when touched in the center. Remove from griddle and serve.
Step 4

Other Variations: Try using different flavors of Fruit Crisps, such as Apple Cinnamon, Strawberry, or fruit clusters. Or, make them in fun kiddie versions for the little ones.