What's better than cake? Cake in a mug, of course!  Check out this easy, fruity mug cake made with all natural freeze dried fruit.
Easy Mug Cake with Fruit

Print recipe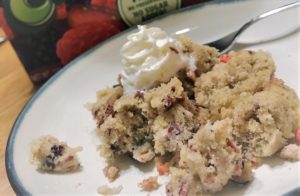 Ingredients
4 tablespoons flour
3 tablespoons sugar
2 tablespoons brown sugar
1 teaspoon baking powder
2 tablespoons crushed Brothers All Natural Fruit Crisps (we recommend strawberry, apple cinnamon, peach or banana)
1/3 cup milk
Directions
Step 1
Mix all the dry ingredients in a mug then add the crushed fruit crisps.
Step 2
Mix in the milk and microwave for 2-3 minutes. Top with left over fruit crisps and whipped cream.
Brothers All Natural freeze dried fruit crisps are dried to preserve the flavors and nutrients off fresh fruit. Healthy, delicious fruit snacks with no additives or preservatives, just 100% real, all natural, great tasting fruit.
Try our other freeze dried fruit RECIPES
Get your favorite Fruit Crisps HERE