Fruity Fruit Crisp Yogurt Bites
Turn your plain yogurt into a fruity success with this fruity fruit crisp yogurt bites recipe your whole family will be sure to love. Made with all natural fruit crisps, of course…
Fruity Yogurt Bites

Print recipe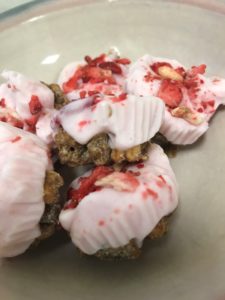 | | |
| --- | --- |
| Serves | 8 |
| Meal type | Breakfast, Dessert, Snack |
| Misc | Child Friendly, Serve Cold |
Ingredients
1 cup Greek Yogurt (any flavor you want)
1/2 cup Granola
1 bag Brothers All Natural Freeze Dried Fruit (any flavor you want)
Directions
Step 1
Line mini muffin tin with cupcake liners.
Step 2
Crush freeze dried fruit inside bag with fingers.
Step 3
Fill bottom of muffin tin with granola. (Another option is to mix/blend the granola with honey/peanut butter/maple syrup in order to make a crust)
Step 4
Scoop yogurt on top of granola and be careful not to mix the granola into the yogurt.
Step 5
Take the crumbled freeze dried fruit and sprinkle on top.
Step 6
Place in freezer for at least an hour, then remove and enjoy!
Get your favorite Fruit Crisps HERE
Brothers All Natural freeze dried fruit crisps are dried to preserve the flavors and nutrients off fresh fruit. Healthy, delicious fruit snacks with no additives or preservatives, just 100% real, all natural, great tasting fruit.
Try our other fruit crisp RECIPES