Print recipe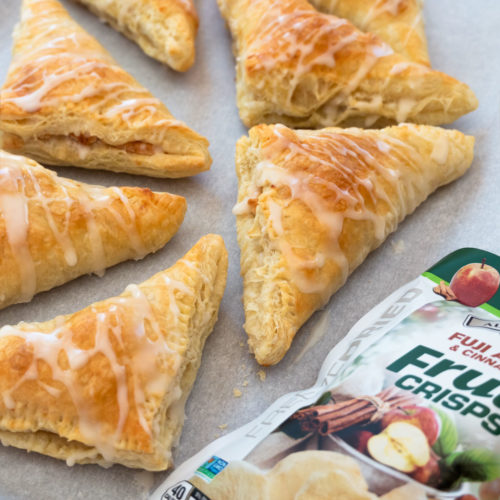 Ingredients
Apple Turnovers
1 (17.3 oz) package of thawed puff pastry
3 bags of Brothers All Natural Apple Cinnamon Fruit Crisps (use 1/2 cup sized bags)
1/4 cup granulated sugar
1 tablespoon all-purpose flour
1/2 teaspoon ground cinnamon
1 egg white (lightly beaten)
Glaze
1 cup powdered sugar (sifted for best results)
1 teaspoon vanilla extract
2 tablespoons milk
Directions
Step 1
Start by preheating oven to 400 degrees Fahrenheit. Prepare a baking sheet with parchment paper and set aside.
Step 2
Gently unroll both sections of puff pastry, and cut each section into 4 squares to create 8 squares total. Set aside.
Step 3
Grab a medium sized bowl and empty the Freeze Dried Cinnamon Apples into the bowl. Slightly break up with fingers into bite sized pieces. Add 1-2 teaspoons of water to slightly coat the apples. Next, add in the sugar, flour and cinnamon. Mix well.
Step 4
Spoon a small amount of apple filling onto one corner of a puff pastry square. Then, fold the empty corner on top to enclose the filling. Crimp the ends with a fork. Repeat with the remaining 7 squares.
Step 5
In a small bowl, slightly whisk one egg white. Brush this egg white on each turnover. Once each turnover is coated, place in the oven for 15-18 minutes. The edges should be slightly brown.
Step 6
Remove the turnovers from oven and make the glaze while the turnovers cool.
Step 7
Make the glaze by sifting the powdered sugar. Then, add the powdered sugar, vanilla and milk to a small bowl and whisk together. More milk can be added to thin out the glaze.
Step 8
Drizzle the glaze over the turnovers and enjoy!