Easy Homemade Apple Pie

Print recipe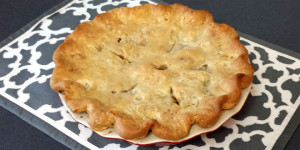 | | |
| --- | --- |
| Serves | 8 |
| Prep time | 20 minutes |
| Cook time | 1 hour |
| Total time | 1 hour, 20 minutes |
| Meal type | Dessert |
| Misc | Serve Cold, Serve Hot |
| Website | Brothers-All-Natural Blog |
Sweet apple fill this tender & flaky pie crust that is sure to give your grandmother's recipe a run for her money!
Ingredients
1 tablespoon butter (or as needed for dotting pie)
Crust
2 1/2 cups flour
1 teaspoon salt
1/2 cup shortening
1 tablespoon shortening
1 1/2 stick butter (sliced into thin parts)
ice water as needed
Filling
2 cups Freeze Dried Apple slices (remove the oxygen absorbers)
2 1/2 cups water
2 teaspoons cinnamon
1/4 cup brown sugar (packed)
1/4 teaspoon salt
1 tablespoon vanilla
Note
Directions
Step 1
Place flour in a large bowl. Add salt and shortening. Fully incorporate shortening with your fingers making sure that there are no lumps left.
Step 2
Work in 1/2 stick of butter(that was cut into parts). Add remaining parts to the flour and lightly toss just to coat the butter. Break those parts in half and flatten with your fingers. Leave those parts as big as possible.
Step 3
Slowly add ice water to the dough until the mixture starts to come together. About 1/2 cup or so is a good estimate. The dough may feel slightly tacky.
Step 4
Once the dough comes together, split the dough into two balls. Form each into the shape of a hamburger patty(and square off the edges by rolling it on the counter like a wheel). Wrap in plastic wrap and chill for at least 60 minutes.
Step 5
Once the dough is completely chilled, roll one out onto a floured surface (leave the other in the refrigerator). Be sure to use enough flour and add flour underneath the dough as you go along. The butter will look like streaks in dough. Once rolled out, roll over your rolling pin and brush off excess flour with pastry brush. Lay into a pan sprayed/greased pie tin. Cut edges, leaving about 2" overhang. Chill bottom pie crust until set.
Step 6
In a large bowl combine apple slices, water, cinnamon, brown sugar, vanilla,and 1/4 tsp salt. Mix well and let all of the apples hydrate. Place filling into chilled bottom pie crust. Dot with 1 Tbsp butter.
Step 7
Roll out second crust the same as the first, brushing off any excess flour before laying over the top of the pie. Cut edges to match bottom crust. Tuck edges under and pinch together to the bottom crust. Cut vent holes in the pie. Chill the pie for 30-60 minutes before baking.
Step 8
Bake the pie for 15 minutes at 425 degrees F then reduce heat to 350 degrees F. Finish baking for an additional 45 minutes or until the crust is golden. Remove from oven and let rest for at at least an hour. Slice and serve