Authentic Style Pad Thai

Print recipe
| | |
| --- | --- |
| Serves | 8 |
| Prep time | 20 minutes |
| Cook time | 15 minutes |
| Total time | 35 minutes |
| Dietary | Gluten Free |
| Meal type | Main Dish |
| Misc | Serve Hot |
| Region | Thai |
| Website | Brothers-All-Natural Blog |
A traditional style Pad Thai using sweet and tangy flavors. Harvester Farms Broccoli adds color, texture, and nutrition (a great source of Vitamin C) to this delicious dish. The best part is that it is completely Gluten Free.
Ingredients
1 Package (16 oz) Ban Pho Noodles (Large)
2 tablespoons Oil
1 tablespoon Shallots (Finely Minced)
2 tablespoons Oil
1 tablespoon Garlic (Finely Minced)
16 Medium Raw Shrimp (Peeled & De-Veined)
2 cups Freeze Dried Broccoli (Heaping)
1/2 Block Tofu (Drained & Cubed)
2 Eggs
1 cup Bean Sprouts ((Fresh is preferred; canned is also available))
1/3 cup Salted Roasted Peanuts (Roughly Chopped)
2 Scallions (Bias Cut)
1/2 bunch Fresh Cilantro (Finely Chopped (optional))
6 Wedges Lime
Sauce
1 tablespoon Gluten Free Soy Sauce
2 tablespoons Gluten Free Fish Sauce
2 tablespoons Tamarind Concentrate
2 tablespoons Palm Sugar ((Coconut Sugar))
1 tablespoon Lime Juice
1 teaspoon Siracha
1 teaspoon Rice Vinegar
1/2 cup Chicken or Vegetable Stock
Directions
Step 1
In a small bowl, whisk together the ingredients for the sauce. Make sure to break up the coconut sugar and let it completely dissolve.
Step 2

Submerge ban pho noodles in a bowl of hot water for 15 minutes. Drain thoroughly and set aside.

Step 3

Heat a large wok over high heat until hot. Add the oil. Sauce the shallots then garlic for about 1 minute. Add the shrimp and cook an additional 2 minutes or until the shrimp turn pink (but do not curl yet.)

Step 4

Add the freeze dried broccoli, the tofu, eggs, and bean sprouts. Toss gently.

Step 5

Add the reserved drained noodles and prepared sauce. Gently toss with tongs until mixture is fully incorporated. Let mixture cook for about 3-5 minutes or until heated completely through and shrimp finishes cooking.

Step 6
Top with chopped peanuts and bias cut scallions, and cilantro (if desired) and serve with a fresh wedge of lime.
Summary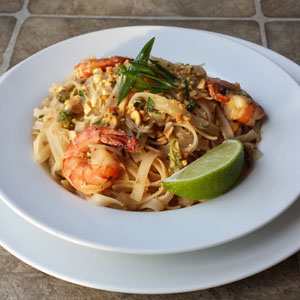 Recipe Name
Published On
Preparation Time
Cook Time
Total Time