Braided Apple Raisin Bread

Print recipe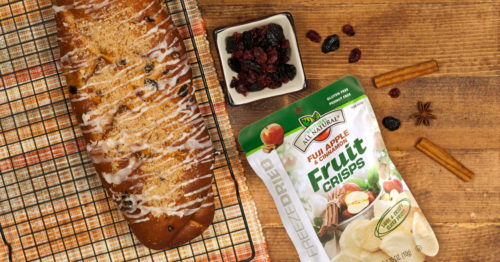 | | |
| --- | --- |
| Serves | 1 loaf |
| Meal type | Bread, Breakfast, Dessert |
Ingredients
Dough
2 cups bread flour
2 teaspoons instant yeast
1/4 cup sugar
1/2 teaspoon salt
3/4 cups whole milk (heated)
3 tablespoons vegetable oil
1 egg
1 Cup raisins
1/3 Cup flour
Filling
2 tablespoons soft butter
1/4 cup brown sugar
1 tablespoon freeze dried apple cinnamon powder (In a blender, pulse 1/2 cup of Brothers All Natural freeze dried cinnamon apples until a fine powder)
Egg wash
1 egg yolk + 1 tsp. water
Icing
1 cup powdered sugar
2 tablespoons milk
Directions
Step 1
In a large mixing bowl or a stand mixer, add the flour, sugar, yeast & salt. Combine well.
Step 2
Add the heated milk (heat about 40-60 seconds in microwave). Then, add the oil and egg. Mix on medium speed for around 2 minutes.
Step 3
Fold in the raisins and flour to form the dough. Prepare a floured surface and knead the dough for 3-4 minutes. Cover in plastic wrap and allow it to sit for 10 minutes.
Step 4
While the dough is resting, start preparing the apple cinnamon sugar by simply mixing the crushed freeze dried fruit with the brown sugar.
Step 5
Roll the dough into a rectangle, about 9 in. by 12 in, and slice into 3 long sections (so each strip is 12 inches long with about a 3 inch width). Spread butter on each strip and sprinkle the sugar filling mix down the center of each strip, staying away from the edge.
Step 6
To shape the bread, fold the 12 inch strips in half to make a 6 inch strip that has a sugar filling. Pinch the sides and ends to seal the sugar in. Use these 3 sections to form a braid and place on a baking sheet with parchment paper.
Step 7
Cover the braid with plastic wrap or a towel, and allow to rise for 1.5 hours. The best place to do this is on top of the preheating oven. Oven should be preheated to 375 degree Fahrenheit.
Step 8
Before baking, brush the egg wash on top (egg yolk mixed with 1 tsp. water). Bake for about 25 minutes.
Step 9
Allow the bread to cool completely before adding the glaze. (Glaze is 1 cup powdered sugar with 2 tablespoons milk). Sprinkle any extra freeze dried apple cinnamon powder on top.