Caramel Apple Muffins

Print recipe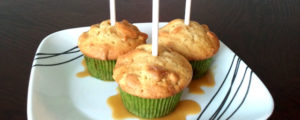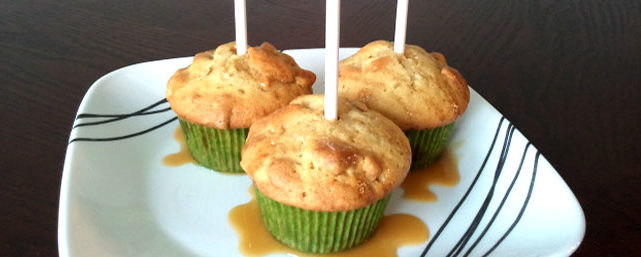 | | |
| --- | --- |
| Serves | 12 |
| Prep time | 15 minutes |
| Cook time | 25 minutes |
| Total time | 40 minutes |
| Allergy | Egg, Milk, Wheat |
| Meal type | Breakfast, Dessert, Snack |
| Misc | Child Friendly, Freezable, Pre-preparable, Serve Cold, Serve Hot |
| Website | Brothers-All-Natural Blog |
These Caramel Apple Muffins taste like sweet, tart, and gooey caramel apples but in muffin form. Fun and delicious! Enjoy with coffee or serve as a wonderful, sweet dessert.
Ingredients
2 cups All-purpose flour
1 teaspoon Baking powder
1 teaspoon Baking soda
1 teaspoon Salt
1 cup Sugar
2/3 cups Oil
1 1/2 teaspoon Vanilla
2 Large Eggs
4 bags Brothers-All-Natural Fuji Apple Fruit Crisps (Slightly crushed by hand)
20 Caramels (Unwrapped and cut into quarters)
Optional
Caramel Sauce (For drizzling)
Directions
Step 1
Preheat oven to 350 degrees F. Line 12 muffin tins with muffin or cupcake liners (if desired).
Step 2
In a large bowl, mix together the flour, baking powder, baking soda, and salt. In a separate bowl combine the sugar, oil, water, vanilla, and eggs. Mix well. Slowly add wet ingredients to the dry ingredients and fold together.
Step 3
Carefully fold in the 4 bags of Brothers-All-Natural Fuji Apple Fruit Crisps and chopped caramels. Pour mixture into the liners (filling almost all of the way up to the top).
Step 4
Bake for about 20-25 minutes or until a toothpick comes out clean when inserted into each muffin.
Step 5
Want to have a fun little twist? Drizzle baked muffins with caramel sauce and insert a stick to make it look like a caramel apple! You may also use Brothers-All-Natural Apple-Cinnamon Fruit Crisps instead if Fuji Apple. Your recipe will have a hint of delicious cinnamon.