Caramel Apple Bites

Print recipe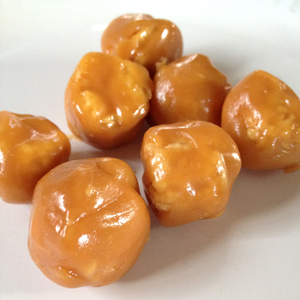 Caramel apple bites are a perfect for kids or anyone wanting the taste of caramel apples without the mess or commitment of eating an entire apple! Get the yummy flavor of caramel apple in a bite-sized, easy to manage treat.
Ingredients
2 cups Individually wrapped caramel candies
1 teaspoon Organic Coconut Oil
1 bag Brothers-All-Natural Apple Cinnamon Fruit Clusters
Directions
Step 1

Unwrap the caramels and place in a microwave safe bowl; add coconut oil. Melt in the microwave in 30 second intervals, stirring in between until completely melted.

Step 2

Place the Fruit Clusters (a few at a time) into the caramel mixture and roll to evenly coat each piece. Remove and place on a sheet or plate to cool.

Step 3

For different flavor variations, try using Brothers-All-Natural Raspberry Apple or Blueberry Apple Fruit Clusters.
Summary