Chocolate Covered Freeze Dried Fruit

Print recipe
These chocolate covered raspberries are fun, easy, and delicious. The sweet, dark chocolate pairs perfectly with the tart dried raspberries. Try them with white chocolate, too!
Ingredients
1 bag Dark Chocolate Melting Chips
1 bag White Chocolate Melting Chips
2 bags Brothers-All-Natural Freeze Dried Fruit Crisps of your choice
Directions
Step 1
In a microwave safe bowl melt the dark chocolate melting chips. Start with 25 seconds and stir and continuing to microwave until melted. Be careful to not over cook the chocolate.
Step 2
Once the chocolate is melted drop the Fruit Crisps into the chocolate. Remove from bowl and place on wax paper until the chocolate is set. Continue this process until all Fruit Crisps have been dipped in chocolate.
Step 3
In another microwave safe bowl melt the white chocolate melting chips. Start with 25 seconds stir and continue until chocolate is melted.
Step 4
Take a spoon and drizzle the white chocolate over the fruit for decoration. Let sit until the chocolate has dried.
Step 5
Place on a serving dish and serve. Store in an air tight container after use.
Summary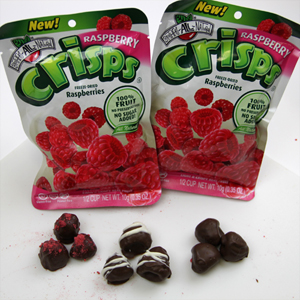 Recipe Name
Chocolate Covered Raspberries
Published On