Cinnamon Apple Granola Bars

Print recipe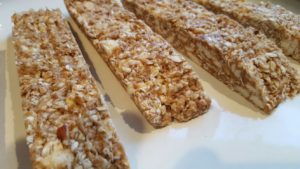 Ingredients
3 Bags (1/2 cup size) Brothers All Natural Apple Cinnamon Fruit Crisps
1 cup rolled oats
1/8 teaspoon salt
1/3 cup almond butter
1/4 cup agave or honey
Directions
Step 1
In a blender or food processor, process the Apple Cinnamon Fruit Crisps until they are broken up into tiny pieces.
Step 2
In a large bowl, mix the fruit with the rolled oats and salt. Stir in the almond butter, and then mix in the agave until a sticky dough forms.
Step 3
Transfer the mixture to your pan, and press it down evenly into the pan using a soft spatula. Freeze the pan for at least 1 hour, and then cut bars using a sharp knife.
Step 4

Store at room temperature or in the refrigerator for up to a week.