Strawberry Banana Granola Bars

Print recipe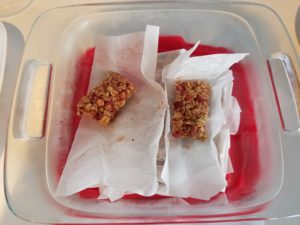 | | |
| --- | --- |
| Serves | 6 |
| Cook time | 15 minutes |
| Website | Adapted from Brandi Milloy - Popsugar |
Try our shelf stable strawberry banana granola bars recipe which uses freeze dried strawberries and bananas! Perfect for on the go snacking.
Ingredients
1/3 cup freeze dried strawberries
1/3 cup freeze dried bananas
1 cup old fashioned oats
1/8 teaspoon salt
1/4 cup butter
2 tablespoons peanut butter
1/4 cup honey
1 tablespoon sugar in the raw for additional sweetness
Directions
Step 1
Break the freeze dried fruit until they are broken up into tiny pieces. Crush the fruit in it's packaging before opening with a large meat tenderizer. A blender or food processor works as well.
Step 2
In a large bowl, mix the fruit, oats, and salt. Stir in the butter and peanut butter, and then mix in the honey until a sticky dough forms.
Step 3
Transfer the mixture to a freezer safe pan or dish, and press it down evenly into the pan using a soft spatula.
Step 4
Freeze the pan for at least 1 hour, and then cut bars using a sharp knife. Store at room temperature or in the refrigerator for up to a week.