Fruit Fluff Salad with Pineapple and Orange

Print recipe
| | |
| --- | --- |
| Serves | 20 |
| Prep time | 5 minutes |
| Cook time | 10 minutes |
| Total time | 15 minutes |
| Meal type | Appetizer, Dessert, Salad, Side Dish |
| Misc | Pre-preparable, Serve Cold |
| Occasion | Barbecue, Casual Party |
| Website | Brothers-All-Natural Blog |
This fruit salad is fluffy and light; a refreshing dessert to bring to your next picnic, barbecue, or potluck. Delicious and easy to make, this dish is sweet, tangy, and will feed an entire crowd!
Ingredients
1lb Orzo Pasta
7 bags Brothers-All-Natural Pineapple Fruit Crisps
7 bags Brothers All-Natural-Mandarin Orange Fruit Crisps
2 cans Fruit Cocktail in Pear Juice (15oz. cans)
4 cans Pineapple Juice (6oz. cans)
1 cup Granulated Sugar
2 teaspoons Vanilla
1/2 teaspoon Salt
2 Large Eggs
2 1/2 tablespoons Flour
16oz Whipped Topping
Directions
Step 1
Cook the orzo pasta in boiling water approximately 10 minutes. Drain and rinse with cold water. Drain again and place in a very large bowl.
Step 2

Add the Brothers-All-Natural Pineapple and Mandarin Orange Fruit Crisps to the bowl (you may lightly crush the Fruit Crisps if smaller pieces are desired) and set aside.

Step 3
Drain the Fruit Cocktail juices into a medium-sized pot (add the fruit cocktail itself to the pasta). To the pot of fruit cocktail juice, add the pineapple juice, granulated sugar, vanilla and salt. Heat over high heat and whisk until sugar completely dissolves. Bring mixture to a boil.
Step 4

Crack the eggs into a small heat-safe bowl. Whisk. Ladle a small amount of the hot liquid into the eggs while whisking. Add another ladle and continue to whisk. Continue adding ladles of hot juice and when the temperature is warm, add the egg mixture directly into the pot of juices. Bring to a boil again while whisking.

Step 5
Add the flour and whisk very quickly and vigorously to break up any lumps. Continue to boil for about 2-3 minutes while whisking continuously, or until mixture thickens.
Step 6
Remove from heat and immediately pour over pasta. Fold mixture with a spatula. Cover and refrigerate overnight.
Step 7

After sitting overnight, gently fold in the whipped cream and serve.
Summary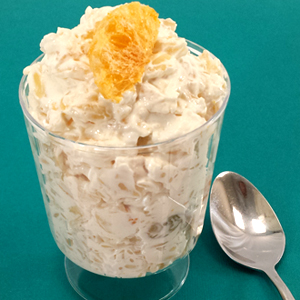 Recipe Name
Fruit Fluff Salad with Pineapple and Orange
Published On
Preparation Time
Cook Time
Total Time