Fruity Yogurt Bites

Print recipe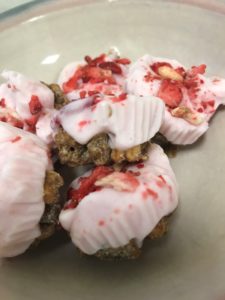 | | |
| --- | --- |
| Serves | 8 |
| Meal type | Breakfast, Dessert, Snack |
| Misc | Child Friendly, Serve Cold |
Ingredients
1 cup Greek Yogurt (any flavor you want)
1/2 cup Granola
1 bag Brothers All Natural Freeze Dried Fruit (any flavor you want)
Directions
Step 1
Line mini muffin tin with cupcake liners.
Step 2
Crush freeze dried fruit inside bag with fingers.
Step 3
Fill bottom of muffin tin with granola. (Another option is to mix/blend the granola with honey/peanut butter/maple syrup in order to make a crust)
Step 4
Scoop yogurt on top of granola and be careful not to mix the granola into the yogurt.
Step 5
Take the crumbled freeze dried fruit and sprinkle on top.
Step 6
Place in freezer for at least an hour, then remove and enjoy!