Homemade Strawberry-Banana Belgium Waffles

Print recipe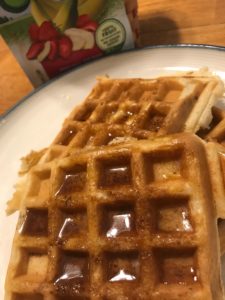 | | |
| --- | --- |
| Serves | 6 |
| Prep time | 20 minutes |
| Meal type | Breakfast |
| Misc | Child Friendly, Serve Hot |
| By author | Brothers All Natural |
Nothing beats homemade strawberry banana waffles for breakfast! Freeze dried strawberries and bananas are a healthy, delicious alternative to chocolate chips!
Ingredients
2 eggs
2 Cups flour
1 3/4 Cups milk
1/2 cup vegetable oil
1 tablespoon white sugar
4 Teaspoons baking powder
1/4 teaspoon salt
1/2 teaspoon vanilla extract
2 Bags freeze dried strawberry banana (crushed)
Note
You don't have to limit yourself to freeze dried strawberries and bananas, we have a variety of other delicious  freeze dried fruit crisps flavors to choose from.
Directions
Step 1
Preheat waffle iron
Step 2
Crush up the freeze dried strawberries and bananas by placing them in a sealed bag (or leaving them in their package) and applying pressure with a glass or rolling pin. Do this until the freeze dried fruit is broken into small pieces.
Step 3

Beat eggs in large bowl with hand beater until fluffy. Beat in flour, milk, vegetable oil, sugar, baking powder, salt and vanilla, just until smooth. Add freeze dried strawberries and bananas in last and mix well.

Step 4

Spray preheated waffle iron with non-stick cooking spray. Pour batter onto waffle iron. Cook until golden brown or your waffle iron says it's done! Enjoy!