PB&J Ice Cream Sandwiches

Print recipe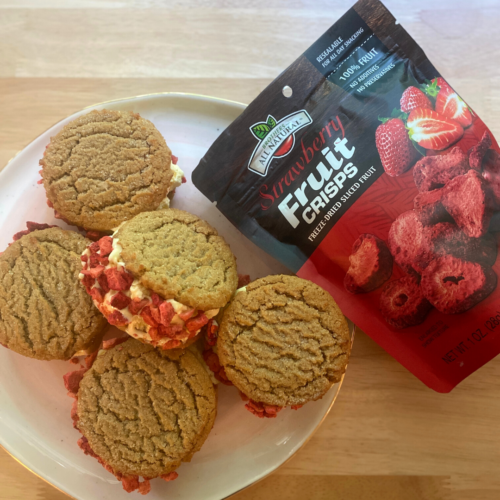 | | |
| --- | --- |
| Serves | 8 |
| Allergy | Peanuts |
| Meal type | Dessert |
| Misc | Child Friendly, Freezable |
Everyone loves a good ice cream sandwich on a warm summer day. Step up your ice cream game with these PB&J sandwiches made with freeze-dried strawberries!
Ingredients
1 bag Brothers All Natural Freeze Dried Strawberries (Crushed)
1/2 cup Strawberry Jam
16 Peanut Butter Cookies (store-bought or homemade)
1 quart Vanilla Ice Cream
Directions
Step 1
Place all cookies flat side up on a baking sheet lined with parchment paper. Evenly spread out about 1 teaspoon of jam flat on each cookie. Freeze until jam sets, about 30 minutes.
Step 2
Crush Freeze-Dried strawberries and place in a bowl. Working quickly, top jam side of 1 cookie with about 1/2 cup of ice cream and cover with other cookie (jam side down). Press cookies together gently until ice cream reaches the edges of the cookies. Dip the outer edges of the sandwich into the freeze-dried strawberries. Repeat with the remaining cookies and return the ice cream sandwiches to the freezer until set, about 45 minutes.
Step 3
Enjoy or store in the freezer individually in plastic wrap for up to 1 week.