Peach Snicker Doodle Cookie Dough Balls

Print recipe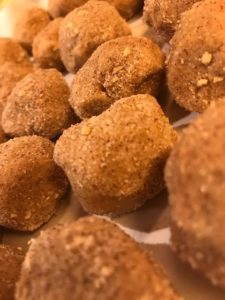 | | |
| --- | --- |
| Serves | 25 |
| Meal type | Dessert, Snack |
Freeze dried peach combined with snicker doodle cookie dough makes for a delicious combo! This dough is meant to be eaten raw and requires no cooking.
Ingredients
1 cup butter
3/4 cups sugar (1/4 cup for topping, 1/2 cup for dough)
3/4 cups brown sugar
2 teaspoons vanilla
2 cups flour
1/2 teaspoon salt
2 teaspoons cinnamon (1 teaspoon for the dough, 1 teaspoon for the coating)
1 teaspoon cream of tartar
2 Bags freeze dried peach (1/2 cup bags)
Directions
Cinnamon Sugar Peach Topping
Step 1
Crush one bag of freeze dried peach into powder by pressing down on the sealed bag with a glass. Take the second bag of peach and crush into small pieces similar in size to chocolate chips.
Dough
Step 2

Take the powered bag of freeze dried peach, 1/4 cup of sugar, and 1 teaspoon of cinnamon and mix well. Set aside.

Step 3
In another bowl, cream together the butter, rest of the sugar (1/2 cup), brown sugar, and vanilla. Then, mix in the flour, salt, rest of the cinnamon (1 teaspoon), cream of tartar and the other bag of freeze dried peach until combined.
Step 4

Roll the dough into balls and then roll in the cinnamon sugar peach mixture. Place on a plate and keep in the fridge until ready to serve.