Pineapple & Herb Marinated & Roasted Chicken Breast

Print recipe
| | |
| --- | --- |
| Serves | 4 |
| Prep time | 10 minutes |
| Cook time | 45 minutes |
| Total time | 55 minutes |
| Dietary | Gluten Free |
| Meal type | Main Dish |
| Misc | Serve Hot |
A simple and versatile pineapple herb marinated and roasted chicken that can used atop salad, over a bed of pasta, made into fajitas, or eaten as-is. A lean and healthy alternative to the usual heavy winter foods.
Ingredients
1 cup Cider Vinegar
1/4 cup Oil
4 bags Brothers-All-Natural Pineapple Crisps
1 teaspoon Onion Powder
1 tablespoon Poultry Seasoning
1 teaspoon Salt
1/2 teaspoon Black Pepper
4 Garlic Cloves (Peeled)
4 Boneless-Skinless Chicken Breasts (Cleaned)
1/2 teaspoon Ground Mustard
Directions
Step 1

In a large bowl combine the vinegar, oil, Brothers-All-Natural Pineapple Crisps, onion powder, ground mustard, poultry seasoning, salt, pepper, and garlic. Using an immersion (stick) blender ( or you may use a food processor), blend ingredients until a thick paste forms. Add the chicken breasts to the marinade and cover tightly. Refrigerate and marinate at least overnight.

Step 2
Preheat oven to 350 degrees F
Step 3

Line a shallow baking dish with foil. Spray with pan spray. Add the marinated chicken to the pan. You do not have to scrape the marinade off the chicken, but do not pour remaining marinade from the bowl into the pan.

Step 4
Discard any left over marinade.
Step 5
Cover the entire pan tightly with foil and let the chicken roast for about 45 minutes or until the internal temperature reaches 165 degrees F.
Step 6
Once finished cooking, remove chicken from the pan and let rest for least 10 minutes (you may lightly cover with foil to keep the heat in).
Step 7
Slice against the grain and serve as-is, or with your favorite accompaniments.
Summary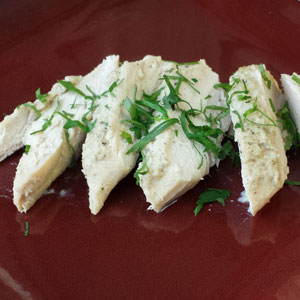 Recipe Name
Pineapple Herb Marinated & Roasted Chicken Breast
Published On
Preparation Time
Cook Time
Total Time