Strawberry-Banana Split Cupcakes

Print recipe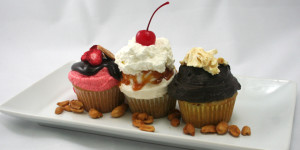 | | |
| --- | --- |
| Serves | 24 |
| Prep time | 25 minutes |
| Cook time | 14 minutes |
| Total time | 39 minutes |
| Allergy | Peanuts |
| Meal type | Dessert |
| Misc | Child Friendly |
| Website | Brothers-All-Natural Blog |
Fun and tasty Strawberry-Banana split cupcakes made with freeze-dried strawberry-banana Fruit Crisps and various toppings!
Ingredients
Cupcakes
1 3/4 cup Flour
1 1/2 teaspoon Baking Powder
1/2 teaspoon Baking Soda
1/2 teaspoon Salt
1 cup Sugar
1 1/2 teaspoon Vanilla
1/2 cup Oil
2 Eggs
3/4 cups Milk
2 tablespoons Milk
5 bags Brothers-All-Natural Strawberry-Banana Fruit Crisps
Frosting
1 stick Butter
1/2 cup Shortening
6 cups Powdered Sugar
1 teaspoon Vanilla
1 teaspoon Butter Flavor ((optional))
1/2 teaspoon Salt
1/2 cup Water (Or as needed)
2 tablespoons Strawberry Gelatin
3 tablespoons Cocoa Powder
2 tablespoons Vanilla Pudding
Garnish
Hot Fudge (As needed)
Caramel Sauce (As needed)
1 bag Brothers-All-Natural Pineapple Fruit Crisps
1 bag Brothers-All-Natural Strawberry-Banana Fruit Crisps
Whipped Cream (As needed)
Maraschino Cherries (As needed)
Honey Roasted Peanuts (As needed)
Directions
Cupcakes
Step 1
Preheat oven to 350 degrees F. Line about 21 cupcake spots with liners.
Step 2
In a large bowl whisk together the flour, baking powder, baking soda, and salt. Set aside.
Step 3
In a mixer with a paddle attachment, cream together the sugar, vanilla, and oil. Add the eggs, one at a time. Scrape down sides. Alternately add the reserved flour mixture and milk to the mixer (on low speed) until fully incorporated. Turn mixer on medium and let mix for about 30 seconds. Fold in the Brothers-All-Natural Strawberry-Banana Fruit Crisps.
Step 4
Portion the into the cupcake liners, filling about 1/2-2/3 of the way full. Bake for about 14 minutes or until a toothpick comes out clean when inserted in the center. Let cupcakes cool completely.
Frosting
Step 5
To make the frosting, in a mixer with a whip attachment, whip the butter and shortening until light in color, about 2-3 minutes. Turn off mixer and add powdered sugar, vanilla, butter flavoring (optional), and salt. Turn mixer on low. Slowly pour in enough water until the mixture comes together. Turn mixer on high and let whip for at least 5 minutes. Add more water if mixture is too thick
Frosting
Step 6
Split the finished frosting equally into three separate bowls. In one bowl add the strawberry gelatin, in the second add the vanilla pudding, and in the third add the cocoa powder. Mix each of them well.
Garnish
Step 7
To style the cupcakes, using a small ice cream scoop, portion a small amount of frosting over each of the cupcakes (using all three flavors).
Step 8
Drizzle some hot fudge over the strawberry cupcake and top with more Strawberry-Banana Fruit Crisps. Drizzle the vanilla cupcake with caramel sauce and top the chocolate cupcake with the Pineapple Fruit Crisps. Top all three with whipped cream, a cherry and sprinkle with honey roasted peanuts. Serve
Summary
Recipe Name
Strawberry-Banana Split Cupcakes
Published On
Preparation Time
Cook Time
Total Time