Strawberries and Granola

Print recipe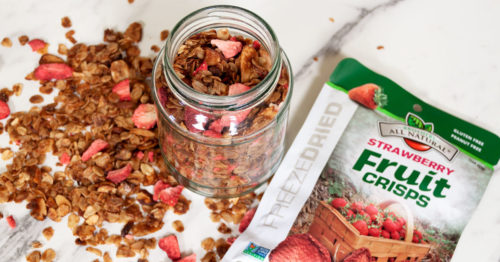 | | |
| --- | --- |
| Prep time | 15 minutes |
| Cook time | 30 minutes |
| Total time | 45 minutes |
| Meal type | Breakfast, Dessert, Snack |
| Misc | Child Friendly |
Ingredients
3 cups old fashioned rolled oats
3/4 cups sliced almonds
1/4 cup dark brown sugar or coconut sugar
1/8 teaspoon ground cinnamon
1/4 teaspoon sea salt (finely ground)
2 teaspoons vanilla extract
1/4 cup avocado oil or melted coconut oil
1/4 cup pure maple syrup
1-2 cups freeze dried strawberries
Directions
Step 1
Preheat oven to 350 degrees Fahrenheit. Line a baking sheet with parchment paper. Baking sheets with taller sides work best to prevent spilling.
Step 2
In a large bowl, mix the oats, almonds, brown sugar, cinnamon and salt. Then, add the maple syrup, vanilla and oil of your choice. Stir until the oats are evenly coated.
Step 3
Spread the oats onto the baking sheet in an even layer. Bake for 30 minutes giving the oats a quick stir at 15 minutes.
Step 4
Allow the oats to cool completely and add the freeze dried strawberries.
Step 5
Store in an airtight glass jar.