Strawberry Melting Moments

Print recipe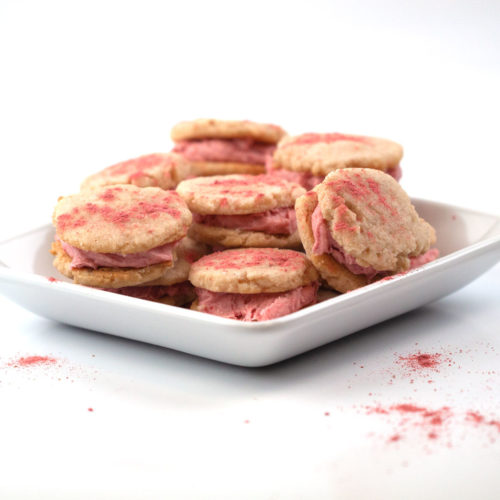 | | |
| --- | --- |
| Prep time | 30 minutes |
| Cook time | 10 minutes |
| Total time | 40 minutes |
| Meal type | Dessert |
| Misc | Child Friendly |
Ingredients
Cookie Dough
1 cup sticks of unsalted butter (2 sticks)
2/3 cups sugar
1 egg yolk
2 tablespoons freeze dried strawberries (powdered by grinding in blender)
2 1/4 cups flour
1 teaspoon lemon juice
Filling
1/2 cup butter (room temperature)
4 cups powdered sugar
1oz freeze dried strawberries (powdered by grinding in blender)
5 tablespoons milk
1 teaspoon vanilla
1/4 tablespoon strawberry extract
Directions
Cookie Dough
Step 1
Preheat oven to 375 degrees Fahrenheit and line baking sheet with parchment paper.
Step 2
Cream together the butter and sugar in a stand mixer.
Step 3
Next beat in the egg yolk, lemon juice, freeze dried strawberry powder and flour.
Step 4
Using a 1" cookie scoop, portion the dough onto the parchment paper. Leave about 2 inches in between each cookie.
Step 5
Bake 8-10 minutes or until the edges start to brown. Remove from the oven and let cool for 5 minutes. Then, transfer to a wire rack to cool completely.
Filling
Step 6
While the cookies are cooling it's time to make the filling. In a medium bowl, cream together the 1/2 cup of butter and powdered sugar until smooth Then, add the freeze dried strawberries, strawberry extract and milk. Mix well.
Step 7
Pair up the cooled cookies and spread the filling using a knife on one cookie from each each pair. Place the other cookie on top. Sprinkle extra freeze dried strawberry powder on the cookies for decoration.