Stuffed Peppers

Print recipe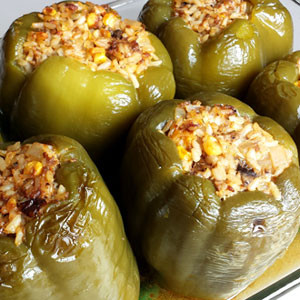 | | |
| --- | --- |
| Serves | 6 |
| Prep time | 20 minutes |
| Cook time | 1 hour, 30 minutes |
| Total time | 1 hour, 50 minutes |
| Meal type | Main Dish |
| Misc | Pre-preparable, Serve Hot |
| Website | Brothers-All-Natural Blog |
Smoky and earthy stuffed bell peppers with ground beef, rice and Harvester Farms Freeze-Dried Corn. This dish is sure to remind you of mom's home cooking. It contains all three meal components in one small package: meat, vegetable and starch. This dish can also be prepared ahead of time and refrigerated before baking.
Ingredients
6 Large Bell Peppers, cored and seeded
1lb Ground Beef
4 cups Cooked Rice
1 Large Onion, finely chopped
1 cup Mushrooms, roughly chopped
2 cups Freeze Dried Corn
4 Scallions, finely sliced
1 tablespoon Garlic, finely minced
1 cup Shredded Monterey Jack/Cheddar Cheese Blend
2 teaspoons 2 tsp. Worcestershire Sauce
2 teaspoons Chili Powder
1 tablespoon Smoked Paprika
1 teaspoon Garlic Powder
2 teaspoons Onion Powder
1/4 teaspoon Ground Cumin
2 teaspoons Apple Cider Vinegar
1 tablespoon Salt
1 teaspoon Black Pepper
Directions
Step 1

Preheat oven to 375 degrees F.

Step 2

Cut the top of the bell peppers out using a paring knife. Remove any seeds and pith and discard. Set peppers aside.

Step 3

In a large bowl mix together the ground beef, cooked rice, onions, mushrooms, Freeze Dried Corn, scallions, garlic, cheese, Worcestershire, chili powder, smoked paprika, garlic powder, onion powder, cumin, vinegar, salt, and pepper. Mix well. Stuff hollowed peppers with the mixture very tightly.

Step 4

Pan spray a rectangular baking dish. Stand peppers upright into the pan. Spray a piece of tin foil with pan spray (to prevent the foil from sticking to the peppers while baking) and cover the pan tightly.

Step 5

Bake for approximately 80-90 minutes, or until the internal temperature of the stuffing reaches 165 degrees F. Cook time may vary based on the sizes of the peppers and the amount of stuffing. Serve.
Summary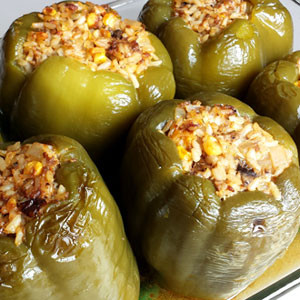 Recipe Name
Published On
Preparation Time
Cook Time
Total Time