Southwestern Fiesta Dip
Need a quick dish to pass for an upcoming party? Try this easy Southwestern Fiesta Dip. The Harvester Farms Corn in this appetizer helps to thicken it, giving it the ability to scoop well and hold up through the entire party. Most of the ingredients you may already have in your cupboard and they can be put together in under 5 minutes!
Southwestern Fiesta Dip

Print recipe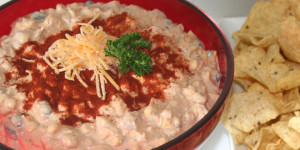 | | |
| --- | --- |
| Serves | 24 |
| Prep time | 10 minutes |
| Dietary | Gluten Free |
| Meal type | Appetizer, Starter |
| Misc | Gourmet, Pre-preparable, Serve Hot |
| Website | Brothers-All-Natural |
A creamy and spicy chilled dip filled with southwestern flavors of salsa and corn, black beans, spices and cheddar cheese.
Ingredients
1 Container (16 oz) Sour Cream
1 1/2 cup Mayonnaise
1 bag (8 oz) Shredded Cheddar Cheese
1 can (15.5 oz) Black Beans (rinsed and drained thoroughly)
1 cup Mild or Medium Salsa
2 cups Harvester Farms Corn
1 tablespoon Paprika
1 tablespoon Onion Powder
1/4 teaspoon Cayenne (Or to taste)
1 teaspoon Garlic Powder
1 1/2 teaspoon Fresh Lime Juice
1 teaspoon Salt
1/2 teaspoon Black Pepper
1 Sprig Parsley (For garnish)
1 bag Tortilla Chips
Directions
Step 1
Combine all ingredients (except tortilla chips) in a medium bowl. Mixture may appear thin at first but Harvester Farms Corn will bind and thicken the dip after sitting for at least 15 minutes.
Step 2
Place dip into a serving bowl. Garnish with more paprika, shredded cheese and parsley if desired.
Step 3
Serve chilled with tortilla chips.