Strawberry Banana Milkshake
Summer is right around the corner and what a perfect time to enjoy a wonderful, cold, and refreshing Strawberry Banana Milkshake! This recipe literally takes longer to gather the ingredients than it does to actually make it too! It is fast, very convenient and you may use any flavor of Brothers-All-Natural Fruit Crisps that you'd like.
Strawberry & Banana Milkshake

Print recipe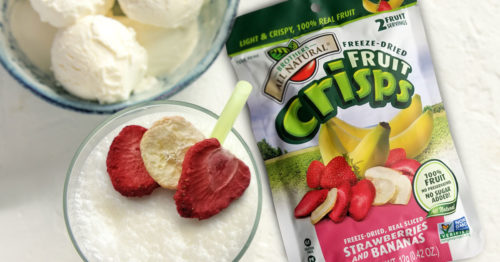 | | |
| --- | --- |
| Serves | 2 |
| Prep time | 5 minutes |
| Allergy | Milk |
| Meal type | Beverage, Dessert |
| Misc | Child Friendly, Freezable, Serve Cold |
| Website | Brothers-All-Natural Blog |
Delicious milkshake packed with fruit flavor! A simple, refreshing treat.
Ingredients
2 scoops Vanilla ice cream
1 1/4 cup Milk
5 bags Brothers All Natural Strawberry & Banana Fruit Crisps (save some aside for garnish if desired)
Optional
Whipped Cream, for garnish
Note
This recipe will thicken significantly upon standing. The longer you let this recipe stand, the thicker it will get. You may need to adjust the amount of milk in the recipe according to your texture/thickness preference. If you will be serving this recipe right away, 1 ¼ cups of milk will be perfect. If you will be serving the recipe after about 10 minutes, add another ¼ cup of milk (or slightly less) to the recipe.
Directions
Step 1
Combine first 4 ingredients in a blender (you may save a couple of strawberry slices and bananas for garnish if desired). Pulse until combined then blend until seeds from crisps are completely ground.
Step 2
Pour into glasses, top with whipped cream and garnish with fruit crisps if desired and serve.