Strawberry Banana Oatmeal Cookies For Dessert
Trade out chocolate chips with fruit crisps to add a yummy crunch to these chewy Strawberry Banana Oatmeal Cookies.
Strawberry Banana Oatmeal Cookies

Print recipe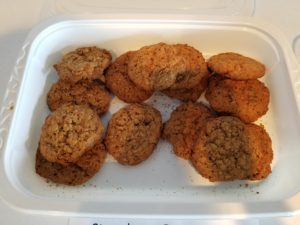 | | |
| --- | --- |
| Serves | 30 |
| Prep time | 10 minutes |
| Cook time | 11 minutes |
| Total time | 21 minutes |
| Website | Adapted from Savory Sweet Life Alice Currah |
Trade out chocolate chips and make freeze dried strawberry banana oatmeal cookies to add a yummy crunch.
Ingredients
1/2 cup butter - room temperature
1 cup raw sugar
1 egg
2 teaspoons honey
1 - 1/4 cup old fashioned oats (not quick or instant)
2/3 cups flour
1 cup freeze dried strawberries and bananas
1 teaspoon baking powder
1 teaspoon baking soda
1/2 teaspoon kosher salt
Directions
Step 1
Preheat the oven to 350 degrees F.
Step 2
Using a stand mixer, cream the butter and sugar on medium-high for 30 seconds, then increase the speed to high for up to 2 minutes until the sugar-butter mixer looks whipped like frosting and not like wet sand.
Step 3
Reduce the speed to medium and add the egg and honey until well combined.
Step 4
Add the oats, flour, freeze-dried fruit, baking powder, baking soda, and salt.
Step 5
Continue to mix on medium speed for about 30 seconds until the dough is completely mixed.
Step 6
Using a medium cookie scoop, scoop the cookie dough approximately 2 inches apart on a baking sheet that is lined with either parchment paper or a silicon mat. A medium cookie scoop is slightly bigger than a tablespoon.
Step 7
Bake for 11-12 minutes turning the baking sheet around half way through the baking time until the cookies are golden brown, slightly lighter in the center.
Step 8
Remove the cookies from the oven and allow them to cool on the baking sheet for a couple of minutes before transferring them to a plate or wire rack. Best when eaten slightly warm, the edges of the cookies will become crispy when cooled down.
Products used:
Freeze Dried Strawberry Banana Fruit Crisps