Strawberry Banana Protein Bars
Raw protein-packed strawberry banana protein bars with oats, maple, honey, nuts, seeds, and Strawberry-Banana Fruit Crisps. Perfect for breakfast or on-the-go snack, especially when an extra boost of energy is needed.
Nutritional Benefits and Tips:
Chia Seeds are high in iron, omega 3's and 6's, and have 3 grams of protein per Tablespoon.
Nuts need to be kept in the freezer to hold their optimal nutrition. The oils in nuts can go rancid very quickly. Raw nuts will hold the best nutrition, as a lot tends to be lost during any roasting process. Nuts are very high in protein.  Almonds are a mono-unsaturated fat ("good" fat), are high in copper manganese, and Vitamin E.
Coconut Oil has medium chain triglycerides (MCT's), which are used for quick energy.
Raw honey contains glucose and fructose, which helps sustain energy. Being raw, it helps preserve the many vitamins and minerals such as Vitamins B1, B2, B3, B5, B6, C, calcium, iron and zinc.
Pumpkin Seeds (aka: Pepitas) are high in protein (7g for 2 Tbsp), Fiber, B-vitamins, Vitamin E, Vitamin K, and Iron.  they are also high in monounsaturated fats, omega 3's & 6's – raises HDL (good cholesterol) and lowers LDL (bad cholesterol)  TIP: Buy sprouted pumpkin seeds if possible (un-sprouted seeds contain and enzyme called phytate, which usually makes the seed hard to digest). Once the phytate enzyme is released, the body can digest the seeds easier, and nutrients are more readily absorbed
Strawberry-Banana Protein Bars

Print recipe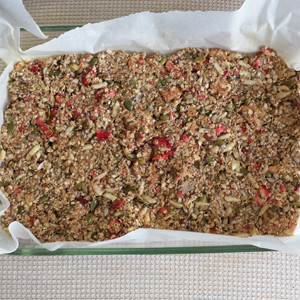 | | |
| --- | --- |
| Serves | 16 |
| Prep time | 10 minutes |
| Meal type | Breakfast, Snack |
| Misc | Freezable, Pre-preparable |
A healthy Strawberry-Banana protein bar stuffed with raw nuts and seeds, oats, and natural sweeteners. Perfect for breakfast or a snack on-the-go, especially when an extra boost of energy is needed.
Ingredients
2 cups Rolled Oats
1/2 cup Slivered Raw Almonds
1/4 cup Raw Sunflower Seeds
1/2 cup Almond Butter
2 tablespoons Raw Honey
1/2 cup Pure Maple Syrup
2 tablespoons Chia Seeds
1 tablespoon Coconut Oil
1/4 cup Pistachios (Shelled)
1 teaspoon Vanilla
5 bags Brothers-All-Natural Strawberry Bannana Fruit Crisps
Pinch Sea Salt
Directions
Step 1

Mix all ingredients together in a large bowl. Be sure to work in the coconut oil to break up any clumps.

Step 2

Line a sheet tray with parchment paper and spray the parchment paper with pan spray. Place mixture on top of parchment paper.

Step 3

Place another piece of pan sprayed parchment paper on top. Press mixture down using the top piece of parchment. Press as tightly as you can.

Step 4
Place tray in the freezer for at least 1 hour or until set. Carefully cut into 16 bars. Serve or store in the freezer in an airtight container or bag.
Product used in this recipe:
Strawberry Banana Fruit Crisps