Calling all strawberry lovers! These brownies are for you. Enjoy alone, with ice cream, or even whipped cream! Made with Brothers All Natural freeze-dried strawberries!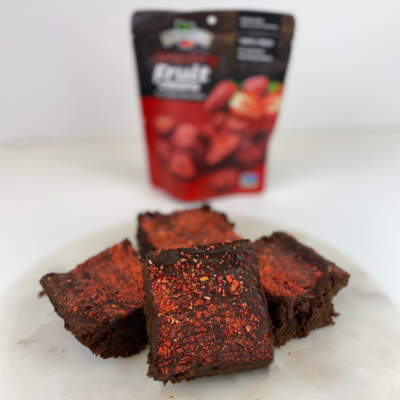 Strawberry Brownies

Print recipe
| | |
| --- | --- |
| Serves | 16 |
| Prep time | 45 minutes |
| Cook time | 30 minutes |
| Total time | 1 hours, 15 minutes |
| Meal type | Dessert |
Ingredients
1 bag Brothers All Natural Freeze Dried Strawberries (1 oz bag)
1/2 cup Butter
1 cup Semi Sweet Chocolate Chips (Heaping cup)
1 cup Granulated Sugar
3 Large Eggs
2/3 cups All Purpose Flour
2 tablespoons Unsweetened Cocoa
1/2 teaspoon Kosher Salt
1 cup Semi Sweet Chocolate Chips (For the ganache)
3oz Cream (For the ganache)
Directions
Brownies
Step 1
Preheat the oven to 350°F and spray an 8x8 pan with nonstick cooking spray.
Step 2
Using a small blender or food processor, grind the strawberries until they are almost powder-like. Set aside.
Step 3
In a medium microwave-safe bowl, melt the butter and 1 cup of chocolate chips together, 30 seconds at a time until melted. Add in the sugar, eggs, and vanilla. Mix until combined.
Step 4
Add in the freeze-dried strawberries, flour, cocoa, and salt. Mix until combined. Pour the batter into the prepared pan and bake for 28-30 minutes. Let cool.
Ganache
Step 5
Add the remaining cup of chocolate chips to a heat-safe bowl. Heat the cream over the stovetop on low until the edges start to simmer. Do NOT bring to a boil! Pour the cream over the chocolate chips and let sit for 2 minutes. Stir until smooth. When the brownies are cool, spread the ganache over. Chill for 10 minutes in the fridge and garnish with more freeze-dried strawberries. Enjoy!