Chewy Chocolate Chip Cookies With Freeze Dried Strawberries
Use you favorite chocolate chip cookie recipe and add strawberry fruit crisps for added yummy flavor! We used the Nestle Toll House recipe.
Strawberry Chocolate Chip Cookies

Print recipe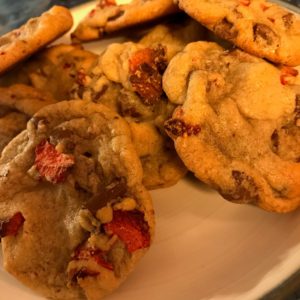 Ingredients
2 1/4 cups Flour
1 teaspoon Salt
1 teaspoon Baking soda
2 sticks Butter (softened)
3/4 cups Granulated Sugar
3/4 cups Brown Sugar
1 teaspoon Vanilla Extract
2 Eggs
2 Bags Freeze Dried Strawberries (1/2 cup bag size, broken into small pieces)
2 cups Chocolate Chips
Directions
Step 1
Preheat oven to 375 F
Step 2
Break up the freeze dried strawberries into smaller pieces - do this by hand or by applying light weight on top of the bags with a glass. Set aside.
Step 3
Mix flour, baking soda and salt in a bowl. Beat butter, granulated sugar, brown sugar and vanilla extract in large mixer bowl until creamy. Add eggs, one at a time, beating well after each addition
Step 4

Gradually beat in flour mixture. Add the freeze dried strawberries and chocolate chips. Mix well.

Step 5

Drop by rounded tablespoon onto ungreased baking sheets.

Step 6
Bake for 10 - 12 minutes and cool on baking sheets for 2 minutes, then move to cooling racks.