Strawberry Fruit Powder Cream Cheese
Naturally flavored plain cream cheese with the help of strawberry fruit powder! We used freeze dried strawberry fruit powder in this recipe but other freeze dried fruit powders, like apples or peaches, can easily be substituted in too.
If you're wondering what fruit powder is, you can find out more about it here.
Keep reading for the recipe.
Strawberry Cream Cheese made with Fruit Powder

Print recipe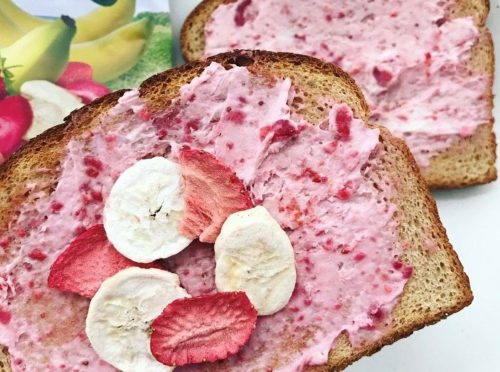 Ingredients
8oz Plain Cream Cheese (room temperature)
1½ Cups Freeze Dried Strawberries
Directions
Step 1
Crush the freeze dried strawberries into a medium-fine powder. You can use a food processor to do this, or you can put them in a sealed bag and use a glass to press down on them.
Step 2
After crushing the strawberries, place them and the cream cheese into a bowl. Mix well with a spoon.
Step 3
Use immediately or refrigerate in as sealed container. Spread on bagels, toast or anything else you think sounds delicious!
Shop for your favorite freeze dried fruit crisps here
Share your freeze dried fruit creations with us by using #brothersallnatural on social media and tag us @brothersallnatural!